Hundreds of protesters forced Thailand's army-installed parliament to suspend its meetings Wednesday after the activists stormed into the chamber's halls.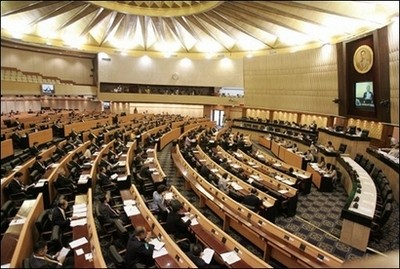 General view of the National Legislative Assembly in Bangkok (Photo: AFP)
About 1,500 union advocates, students and political activists surrounded the parliament building, claiming the military-appointed lawmakers had no mandate to pass legislation, an AFP reporter witnessed.

About 100 of them slipped past security and stormed into the parliament's meeting rooms, prompting lawmakers to suspend deliberations.

"We want the National Legislative Assembly to close this session and stop violating the people's rights. Most of the laws adopted by this assembly violate the people's rights and give more power to government officials," said former senator Jon Ungphakorn, who led the protest.

"The laws adopted have also favored capitalists," he said.

The protesters in particular cited a new internal security bill, which has already passed through a first reading and could be approved before parliament dissolves ahead of the December 23 general elections.

If enacted, the security law would give a military body, under the prime minister's control, sweeping powers to suspend basic rights and override normal government procedures anywhere in the country at any time.

Critics say the law would enable the military to dictate government policy from behind the scenes while shielding officials from prosecution for any abuses.

The protesters also slammed proposed laws that would allow privatization of state utilities and public universities.

"Adoption and deliberation on these important bills should be done by elected members of parliament, because then the people are able to participate," Jon said.

After the September 2006 coup that overthrew the elected government of prime minister Thaksin Shinawatra, the junta handpicked the 250 members of the assembly to function as a parliament.

But activists say that with general elections less than two weeks away, the body no longer has any mandate and should stop passing laws.