BANGKOK, June 29, 2011 (AFP) - Four Thai soldiers have been arrested in a crucial northeastern Thailand political battleground for allegedly intimidating opposition activists ahead of elections at the weekend, police said Wednesday.
The arrests came after Puea Thai party canvassers complained the troops drove to their villages in Nakhon Ratchasima province and told them not to get involved in politics, Police Lieutenant Colonel Suebtragool Theppiyawong said.
A sub-lieutenant, two sergeants and a private, along with one civilian, have been held since Tuesday and have denied intimidation. All five were also charged with carrying illegal firearms, Suebtragool said.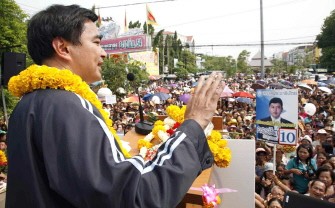 AFP - Thai Prime Minister Abhisit Vejjajiva speaks to his supporters during an election campaign in Mahachai market, suburb of Bangkok on June 29, 2011.
National police spokesmen Major General Prawut Thavornsiri said they were conducting in-depth investigations into the relevant army units.
He said 20 cases of intimidation had been reported to police ahead of the polls, but this was the first involving the military.
The powerful Thai army has a long history of meddling in politics, with 18 coups or coup attempts in the past 79 years, the last in 2006 deposing the now-fugitive Thaksin Shinawatra from the premiership.
The commander-in-chief of the military, General Prayut Chan-O-Cha, has pledged to be neutral in Sunday's election but has also waded into the political fray by calling for the electorate to cast votes for "good people".
His comments were taken as an attack on Yingluck Shinawatra, Thaksin's sister, who is the main opposition candidate for prime minister and likely to win the election, according to polls.
She is up against incumbent Prime Minister Abhisit Vejjajiva, head of the Democrat Party, whose rise to power in 2008, through a parliamentary vote, is widely thought to have been backed by the military.
The army has been making its presence felt ahead of the election in parts of the Thai northeast, the opposition's stronghold, visiting villages to promote the development projects of the king.
The Thai military sees itself as the guardian of the royal institution and frequently cites perceived threats to the beloved monarchy to justify its actions.
Amid fears the vote could bring violence, more than 430 candidates have now sought police protection, Prawut said. More than 170,000 police officers are due to be deployed to protect polling stations on Sunday.