Thailand's of Ministry Public Health on September 30 confirmed that the Zika virus had caused two cases of microcephaly - a condition that results in babies being born with small heads, source from Vietnam News Agency in Bangkok.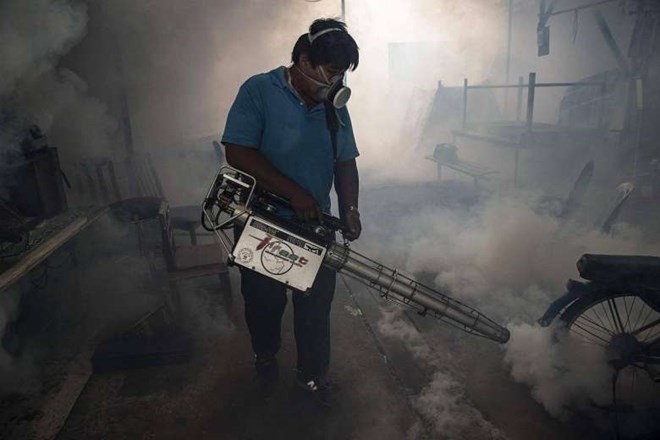 A city worker sprays chemicals with a fumigator to kill mosquitoes in an effort to control the spread of the Zika virus at a school in Bangkok (Source: AFP)
Prasert Thongcharoen, an expert from the ministry's Department of Disease Control, told reporters that two first cases linked to the virus were found in Thailand, but he declined to say where they were discovered.
The World Health Organisation (WHO) also confirmed the cases as the first of its kind in Southeast Asia.
Earlier on September 28, the Ministry of Public Health revealed that it was keeping a close watch on four pregnant women suspected of infecting Zika, three of whom had their babies with unusual small heads while the remaining's 37-week-old unborn baby seemed to suffer from this condition.
The initial testing outcomes showed that two out of the four women were positive for the virus.
Zika cases were reported in some Southeast Asian countries with Thailand having the most – 349 cases, including 25 pregnant women.
The US Center for Disease Control and Prevention (CDC) has issued a travel warning, advising pregnant women to consider postponing unimportant travel to 11 Southeast Asian countries where there is high risk of Zika virus infection.
The countries are Brunei , Myanmar, Cambodia, Indonesia, Laos, Malaysia, Maldives , the Philippines, Thailand, Timor Leste, and Vietnam.
Zika virus is transmitted to humans primarily through Aedes aegypty mosquito bites and sexual intercourse.
The symptoms of Zika infection include fever, conjunctivitis, headaches and muscle pains. Zika infection during pregnancy may lead to microcephaly in babies, which is responsible for incomplete brain development and an unusually small head.
A vaccine for the Zika virus has yet to be discovered.-