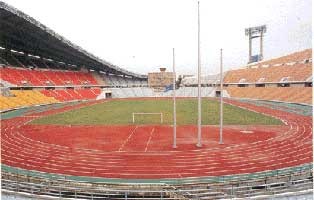 Bangkok's Rajamangal stadium
Thailand on Tuesday sought to reassure the Asian Football Confederation it was ready to co-host next year's Asian Cup football tournament despite the recent coup.
Chaiyapak Siriwat, honorary president of the Football Association of Thailand, said the Asian Football Confederation (AFC) had expressed concern about the political situation following last month's ouster of premier Thaksin Shinawatra, and the readiness of Bangkok's stadium.
Siriwat said AFC Secretary General Peter Velappan had voiced doubts after seeing the state of renovations at Rajamangala Stadium, which will stage the July 2007 Asian Cup along with venues in Indonesia, Malaysia and Vietnam.
"Velappan has concerns and wants to be reassured by the new government that everything will be ready," Chaiyapak told AFP, adding that the AFC was also worried that the kingdom would focus on the World University Games, to be held at the same time as the Asian Cup.
Velappan was due to meet the new sport and tourism minister Suvit Yodmanee on Tuesday afternoon, Chaiyapak said.
Thailand has promised to increase seating capacity and install more locker rooms at Rajamangala Stadium.
Chaiyapak said Thailand had a 29 million baht (775,000 US dollar) budget for improvements to the stadium, which would be complete by January 31.
Thailand narrowly escaped being dropped as co-host of the Asian Games last September over concerns about its facilities.
It will be the first time in 31 years that the kingdom will co-host the tournament, which is held every four years and is seen as a showcase for Asian football.