Thailand has pulled out of the ongoing 35 th session of the World Heritage Convention in Paris after the body decided to take Cambodia 's management plan for the Preah Vihear temple into consideration.
Thailand 's English language daily, the Nation, reported on June 26 that Thai Minister of Natural Resources and Environment Suwit Khunkitti, head of the Thai delegation at the meeting, has announced its decision to WHC leaders.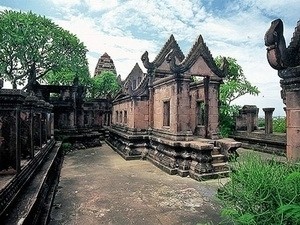 The Preah Vihear temple
Suwit was quoted as saying that the Thai delegation had to make the move after the committee ignored Thailand 's concern that the consideration of Cambodia 's proposed management plan would further complicate the Thailand-Cambodia border dispute.
The dispute over the ancient temple has become a big problem in the relations between Cambodia and Thailand for years.
The situation worsened after UNESCO recognised the 900-year-old temple as a world heritage site in 2008, which led to a number of clashes between the two countries' soldiers, leaving at least 18 people killed and forcing some 100,000 others to evacuate./.