Allies of ousted Thai premier Thaksin Shinawatra began hard bargaining Monday in a bid to form a coalition government after falling short of a majority in the first polls since last year's coup.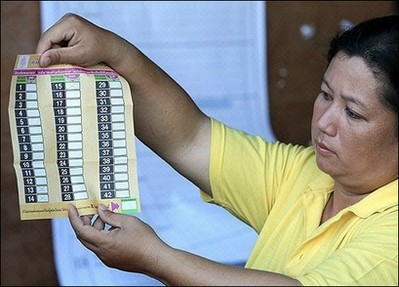 An election officer shows a ballot during a counting at a poll station in Bangkok(Photo: AFP)
The generals who toppled Thaksin's twice-elected government have made little secret that they want to keep supporters of the exiled self-made billionaire out of power after trying for more than a year to erase his legacy.

But the pro-Thaksin People Power Party (PPP) looked set to win 228 of the 480 parliament seats up for grabs in Sunday's election, according to unofficial results from the Election Commission.

The commission said voter turnout was about 70 percent, and a complete count of the ballots was expected later Monday.

PPP leader Samak Sundaravej declared late Sunday he would become the next prime minister "for sure," but his failure to win an absolute majority has forced it to woo small parties to set up a new government.

"Now hard negotiations begin after the election. Although PPP is a top winner, it has to invite small parties to launch a coalition government," said Ukrist Pathmanand, a professor of political science.

"We are going to see intense negotiations between PPP and small parties," said Ukrist from Bangkok's Chulalongkorn University.

PPP's closest rival, the Democrat Party, was set to win 166 seats, with five smaller parties dividing up the rest.

The Democrats' leader Abhisit Vejjajiva has refused to bow out, saying he was prepared to form a coalition government if the PPP fails to do so.

The result left the shape of the new government in the hands of five smaller parties, who are certain to face pressure from the royalist generals who ousted Thaksin.

Two of the minor parties -- Chart Thai and Puea Pandin, which together have 65 seats -- have discussed forming an alliance that could turn them into crucial power brokers.

But analysts said it was difficult to predict which way any of the minor parties were leaning.

Also hanging over the polls are a slate of fraud claims filed with the Election Commission.

If even a handful of them are found to have merit, authorities have 30 days to order by-elections that could shuffle the balance among the parties.

Despite the political jockeying, PPP's strong lead in the election was seen as a repudiation of the coup.

Thais "want to put the past 15 months of military rule behind them and turn back to the democratic path," the Bangkok Post said in an editorial.

A PPP-led coalition government could set the stage for Thaksin's political comeback. Since the coup, the former premier has been in self-imposed exile in Britain, where he bought Manchester City Football Club.

The junta dissolved Thaksin's Thai Rak Thai (Thais Love Thais) party and banned him from political office, but the man who made a fortune in telecoms has remained a dominant and divisive figure in Thai politics.

PPP campaigned on promises to bring back Thaksin's populist economic policies and to bring him back to Thailand.

But few analysts believe the election will resolve deep divisions between anti-Thaksin urban dwellers and the rural masses, who remain loyal to the deposed leader.

PPP draws most of its support from farmers, the majority of Thailand's 64 million population, who remember Thaksin's efforts to boost the rural economy during his five-year rule.

The Democrat Party is popular among Bangkok's middle-class, who last year spearheaded anti-Thaksin protests that culminated in the coup.