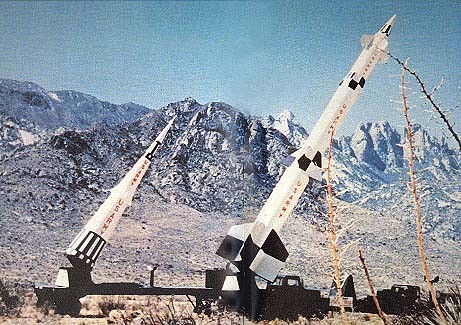 one of the long-range missiles capable of bring nuclear warhead
Up to 30 new countries could have the capability to build a nuclear weapon, on top of the nine current nuclear powers, the head of the International Atomic Energy Agency warned Monday.
"We need to develop a new system of international approach (or we will not) end up with nine (nuclear-)weapon states only, but with another 20 or 30 states which have the capacity to develop nuclear weapons in a short time," IAEA Director General Mohamed ElBaradei said in Vienna.
He said these "virtual nuclear weapon states" had the means and know-how to enrich uranium or reprocess plutonium, at the opening of a symposium bringing together some 500 experts to discuss ways to improve safeguards to ensure peaceful nuclear programmes are not used for military purposes.
"Unfortunately the polical environment is not a very secure one... there are a lot of temptations" to seek nuclear weapons, ElBaradei added, in reference to Iraq and Libya's now-halted military programmes and to Iran's secret nuclear activities, which have been on-going for almost 20 years.
Britain, China, France, Russia and the United States are declared military nuclear powers, along with India and Pakistan, while Israel is also belived to have weapons.
Democratic People's Republic of Korea also announced on October 9 that it had conducted an underground nuclear test.