Thousands of South African mineworkers were expected to take part Tuesday in a historic nationwide strike to demand better safety in mines, the National Union of Mineworkers said.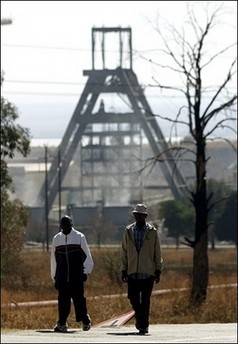 File picture shows workers walking past the Driefontein mine in Carletonville, southwest of Johannesburg (Photo: AFP)
"Everybody is ready. We are expecting 240,000 to join the action. In the march we are expecting 40,000 in Johannesburg alone," NUM spokesman Lesiba Seshoka told AFP of a protest march set for later in the day.

Seshoka said the number of deaths in mines had reached "alarming" proportions, and the mining industry had not made enough of an effort on improving safety.

"Look, we are hoping safety will be the priority of the mining industry from today," he said.

Minerals and Energy Minister Buyelwa Sonjica yesterday blamed negligence on the part of mining officials for the high levels of death after three miners died over the weekend.

Union chiefs have said strike action could be intensified if employers do not make significant inroads into the levels of mining fatalities.

Around 200 miners die in South Africa's mines every year.

The one-day strike will bring production to a complete standstill in around 700 mines yielding everything from gold and diamonds to platinum and coal.

Concerns over safety in the mines reached a new peak in early October when some 3,200 miners were stuck underground in a gold mine southwest of Johannesburg for more than 24 hours after a lift cable snapped.

The incident led President Thabo Mbeki to order a security audit of the mines in the country.

Mining, which generated 195 billion rand (28.5 billion dollars, 19.5 billion euros) in local sales last year, is the largest foreign exchange earner for South Africa and brought in a total of 355 billion rand from exports.