Israeli warplanes carried out three raids on the Gaza Strip early Tuesday, one of which seriously wounded three people, Palestinian medical sources said.
That raid targeted Zeitun east of Gaza City, the sources said, and came after an Israeli police spokesman said a rocket had been fired from the Gaza Strip at the southern town of Beersheva, without causing casualties.
The sources said two more raids were carried out against targets east of Gaza City and east of Khan Yunis in the south of the Gaza Strip, but no one was wounded.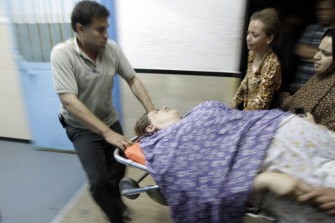 Palestinians wheel in a wounded woman to Shifa Hospital in Gaza City early on August 16, 2011 after she was wounded when Israeli warplanes carried out three raids on the Gaza Strip, one of which seriously wounded the woman and two others.
An Israeli military spokeswoman questioned by AFP did not immediately confirm or deny the attacks.
Israeli public radio said a second rocket had been fired at Beersheva, but it was not immediately known where it landed.
Since last month there has been an increase in the number of rockets fired at southern Israel from the Gaza Strip, followed by Israeli air force reprisal raids.
The incidents have interrupted several months of calm following a flare-up in April, when an anti-tank missile hit an Israeli school bus, killing a teenager.
Israel responded to that attack with a series of air strikes that killed at least 19 Palestinians in the deadliest violence since Israel's devastating 22-day assault on Gaza in December 2008-January 2009.