Tokyo stocks opened 1.21 percent higher on Tuesday after Wall Street rallied overnight on robust consumer spending data.
The benchmark Nikkei 225 index of the Tokyo Stock Exchange opened up 107.15 points at 8,958.50.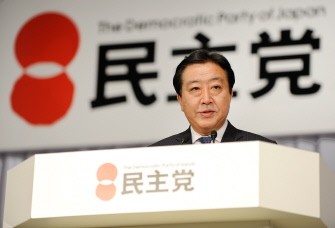 Finance Minister Yoshihiko Noda answers questions after being elected as the new leader of the ruling Democratic Party of Japan (DPJ) in Tokyo on August 29, 2011.
The index was supported by the overnight rally in US stocks, a slightly softer yen and and better-than-expected US consumer spending figures, said Yumi Nishimura, deputy general manager at Daiwa Securities.
US stocks gained on hopes economic growth would pick up speed, while Hurricane Irene caused less damage than feared.
The Dow Jones Industrial Average gained 254.71 points (2.26 percent) to close at 11,539.25.
The US Commerce Department reported that consumer spending, a pillar of the world's largest economy, rebounded 0.8 percent in July, after a 0.1 percent dip in June.
Reaction to finance minister Yoshihiko Noda's election as ruling Democratic Party of Japan leader, and likely next prime minister was limited, Nishimura said.
"But the market is cautiously optimistic that his administration will be able to foster better relationships with opposition parties compared to his predecessors," she told Dow Jones Newswires.
The dollar fetched 76.92 yen in early Tokyo trade, slightly up from 76.83 yen in New York late Monday.
The euro was trading at $1.4513, almost unchanged from $1.4510.
The market was unmoved by earlier data showing that Japan's jobless rate stood at 4.7 percent in July, up 0.1 percentage point from the previous month, excluding figures from the disaster-hit northeast of the country.