Torrential rains and flash floods trapped scores of people in homes and cars following a massive cyclone, piling more misery on Australia Saturday after weeks of record inundations.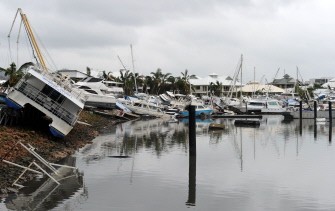 Damaged boats rest against luxury waterfront homes in Cardwell on February 4, 2011.
As coastal residents pieced together homes and farms destroyed by Severe Tropical Cyclone Yasi, dramatic deluges brought by cyclone activity caused chaos in the state of Victoria, some 2,000 kilometres (1,200 miles) away.
More than 80 people were rescued from flood-bound houses and vehicles, while a 14-year-old girl was pulled from a swollen river as emergency services fielded 3,800 calls for help.
A 26-year-old English tourist was in critical condition with serious head injuries after a large gum tree came down on her tent. Her sister, who was also sleeping in the tent, suffered a broken collarbone.
"There is a simple message for everybody in Victoria at the moment: please take care," warned Victoria state premier Ted Baillieu.
"Whether you're near the roads, whether you're near floodwaters, please don't drive through, ride through or play through floodwaters."
Parts of Melbourne, Australia's second biggest city, were lashed by 175 millimetres (6.8 inches) of rain overnight, while flash floods hit the town of Mildura after a record downpour of 200 millimetres on Friday afternoon.
The downpours come after Australia's worst cyclone in a century left a trail of destruction and a damage bill of billions of dollars (billions US) after hitting Queensland state on Wednesday, but miraculously caused no known deaths.
The storm -- categorised as having the highest possible threat level -- laid waste to entire towns, hurled luxury yachts around like toys and shredded enormous swathes of banana and sugar crops, adding an estimated 0.25 percentage points to inflation.
"People say good old Queenslanders are tough and they can rebuild, but this is just too hard for us," said Sandra Cameron, an elderly resident of Tully Heads, one of the worst-hit communities.
Debris including fridges, pool tables and the remains of homes littered the coastal hamlet, while some communities remained cut off by floods and fallen trees, hampering recovery efforts.
"It's just devastating. Obviously there was hell of a lot of force come through here," Tully Heads resident Greville Blank, 69, whose house was destroyed, told the AAP news agency.
Two men who were reported missing in the town of Cardwell turned up safe, and media said a couple who were feared drowned when their yacht capsized had also been contacted by authorities.
Australia's military scaled back operations to deal with weeks of floods, which hit three-quarters of sprawling Queensland including the state capital Brisbane. But another 4,000 troops were helping clear up after the cyclone.
Swiss miner Xstrata resumed its operations at Mount Isa and Cloncurry, in Queensland's north, after the downgraded storm failed to cause any damage.
Power was restored to 15,000 properties in tourism centre Cairns, a gateway to the Great Barrier Reef, as military aircraft prepared to fly in bottled water, tinned food and baby supplies because some roads remained impassable.
Meanwhile tourism authorities were hoping to bounce back quickly from the disasters, which may have undone the public relations coup of bringing over US chat show queen Oprah Winfrey for filming in December.
"We're now working with Tourism Australia to come up with a joint marketing plan as quickly as possible so we can get out on the front foot and say 'we want to welcome as many people as we can'," Tourism Queensland head Anthony Hayes told ABC.
"We've had some bad press but it's still a fantastic place for a holiday," he added.