Five people were killed and four others injured Thursday in a bomb attack on a train in northeastern India claimed by ethnic guerrillas.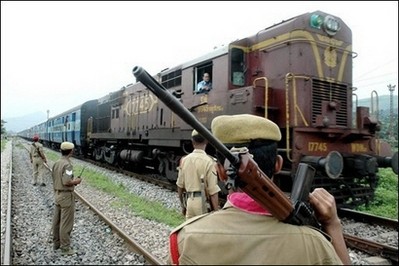 File photo shows Indian soldiers standing guard as a train passes in Guwahati, the capital of India's northeastern state of Assam (Photo: AFP)
The blast hit the New Delhi-bound train as it was nearing Golaghat district, around 270 kilometers (170 miles) east of Assam's main city of Guwahati.

"Five people are dead and four are injured due to the impact of the explosion hitting a portion of the luggage van of the train," Trikal Rabha, chief spokesman of the Northeast Frontier Railways, told AFP.

All the victims were Hindi-speaking migrant workers from neighboring Bihar state, a group previously targeted by Assamese rebels who accuse them of taking away jobs from local people.

The Adivasi National Liberation Army (ALNA), one of several regional ethnic militant groups, said it was responsible for the attack.

"We used a remote control device to trigger the explosion and we will be continuing with such attacks in the coming days," the commander of the group, Dilip Beg, told AFP by telephone from an undisclosed location.

The rebel said his fighters carried out the attack after officials in Assam refused their demands that Assam's ethnic Adivasis be given a special minority status and guaranteed jobs and places in educational institutions.

Golaghat district police chief P.C. Haloi told AFP that preliminary reports suggested a bomb had been planted inside the cargo carriage of the train, which was carrying 800 people.

Haloi said authorities believed one of two local militant organizations may be linked to the blast -- ALNA or the United Liberation Front of Asom (ULFA).

The outlawed ULFA, one of the most powerful rebel groups in Assam, has been fighting for an independent homeland since 1979.

The ALNA is a less organised group active in parts of eastern Assam.

The railway spokesman said Thursday's blast did not derail the train and that the rest of the passengers were safe.

"There was partial damage to the tracks... It was immediately repaired and the train has resumed its journey," Rabha said.

Several passengers said they were terrified by the attack.

"There was a deafening sound and all of a sudden I heard people screaming and the train screeching to a halt," said Rajinder Singh, an army soldier who was on leave and traveling on the train.

In January, Assam was rocked by a string of ethnic attacks, in which separatist rebels killed 73 people, 61 of them poor Hindi-speaking migrant workers. Those attacks were blamed on ULFA.

More than 10,000 people have lost their lives to insurgency in Assam during the past two decades.