Fighters loyal to tribal chief Sheikh Sadiq al-Ahmar, who heads a coalition backing anti-regime protests, clashed with army troops in the

Yemen

i capital on Friday, witnesses said.
Loud explosions and gunfire rocked the Al-Hassaba district of Sanaa. Witnesses said an armoured vehicle of the elite Republican Guard, which is led by President Ali Abdullah Saleh's son, Ahmed, was hit by a projectile and set ablaze.
There were no immediate casualty figures available.
The troops earlier blocked several roads and erected checkpoints, triggering a similar action by the tribesmen armed with machine guns and rocket-propelled grenades.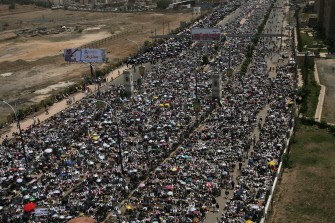 Thousands of Yemeni anti-government protesters perform the first Friday noon prayer of Islam's holy fasting month of Ramadan in Sanaa on August 5, 2011 before rallying against the regime.
Fierce clashes between Ahmar's tribesmen and loyal troops in Al-Hassaba in May killed more than 140 people before the two sides agreed a truce.
The sheikh heads the powerful Hashid tribe which ended its support to Saleh -- also a member of Hashid -- in March and joined the protests which erupted in January demanding the ouster of the president.
Influential tribal leaders formed last week a coalition headed by Ahmar to bolster the uprising against Saleh who has been in a Saudi hospital since June after being wounded in a bomb attack on his Sanaa compound.
Two people were killed and three wounded when the army opened fire on a car in the restive southern Yemeni port city of Aden on Friday, a friend of the victims said.
Abdullah Seif al-Dibai told AFP the incident took place as the car tried to overtake a military convoy on a bridge.
"Two of my friends were killed and three others wounded," he said, adding the occupants of the car were in a hurry to reach home in time for the "iftar" meal which breaks the daytime fast during the Muslim holy month of Ramadan.
A medical source confirmed the casualties.
The south and east of Yemen have been insecure amid a political crisis which has rocked the country for the past six months with mass street protests calling for President Ali Abdullah Saleh's ouster
Tribes wield much influence in impoverished Yemen, where the Hashid is a heavily armed tribal confederation capable of rallying and financing thousands of fighters. The Bakil is the other main tribal confederation.