Afghan and NATO forces were patrolling the southern town of Musa Qala Tuesday after driving out entrenched Taliban fighters, a resident said, as the rebels vowed to fight back.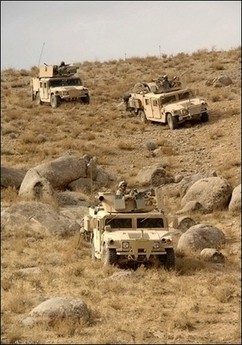 A combined force of Afghan National Army (ANA) and Coalition soldiers patrol in Helmand Province (Photo: AFP)
The number of people killed in the fighting to force out the Taliban was not yet clear, although one local said at least 12 died in air strikes. Defense officials were not immediately available to provide updates.

"I see NATO and Afghan troops in the town," Mohammad Nasir told AFP by telephone. "There was not lots of fighting as we expected."

Afghan and International Security Assistance Force (ISAF) soldiers started advancing Friday on Musa Qala, which was occupied by the Taliban 10 months ago after the withdrawal of British troops. Soldiers entered the town Monday.

Nasir said eight members of one family were killed in one air strike and two children and two women in another. This could not be independently verified.

Officials said only that two children, two ISAF soldiers and several rebels were killed.

A Taliban spokesman confirmed that the rebel fighters had left the town Monday but said they would continue their campaign.

"We left Musa Qala," Yousuf Ahmadi said. "Our aim is to beat the enemy and inflict maximum casualties. Having them in Musa Qala makes it even easier for us to attack them."

As rebel fighters were being ousted from Musa Qala, hundreds of Taliban militants attacked the nearby district of Sangin in an attempt to capture it, the defense ministry said.

"But the enemy faced tough resistance from government forces and were pushed back. Dozens of enemy were killed or wounded in two days of fighting," it said.

The police chief of Helmand province, where Musa Qala is located, said authorities were expected to raise the national flag in the town later Tuesday.

He said the Taliban suffered "big casualties" but did not give a figure.

The Taliban stormed the town 10 months ago, breaking a controversial deal in which British forces pulled out on the request of elders who said they would handle security after months of intense fighting.

Musa Qala then became a base for the fighters, whose insurgency is at its bloodiest this year with around 6,000 people dead. The operation to take it back had been long awaited.

The first troops entered the town as British Prime Minister Gordon Brown visited Helmand province, where British troops are the lead nation for ISAF.

Brown, who later met President Hamid Karzai in Kabul, also promised help to Musa Qala's residents as soon as the military operation was over.

"When action is finally achieved against the Taliban and they are excluded from this area, we will be ready to support the economic and social development of the communities with projects and with support for local government," he said.

Helmand is Afghanistan's main opium-growing area and a stronghold for the Taliban militia who were removed from government in 2001 for harboring Al-Qaeda leaders after the September 11 attacks on the United States.

The rebels, some of whom are backed by Al-Qaeda, have seized several district centers in southern Afghanistan but have been easily ejected.