SHANGHAI, Aug 31, 2011 (AFP) - Tropical storm Nanmadol made landfall in southern China early Wednesday, bringing heavy rain, the government said, but there were no reports of casualties.
Nanmadol killed at least 16 people in the Philippines over the weekend and on Monday a motorcyclist was killed in Taiwan, where landslides also trapped more than 300 people in a remote village.

But the storm had weakened by the time it hit the southern Chinese province of Fujian in the early hours of Wednesday, China's National Meteorological Centre said.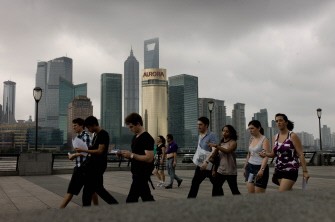 AFP - Tourists walk along Bund promenade past the city's skyline financial district in Shanghai on August 30, 2011. Tropical Storm Nanmadol headed towards China August 30, forcing tens of thousands of boats back to harbour.
Fujian province's two major airports in Xiamen and Fuzhou cities said that flights had already returned to normal, and shipping services were also expected to resume quickly.
The storm quickly weakened after landing, prompting the government to downgrade it to a tropical depression and lift all warning signals.
Nevertheless, local media in Fujian reported substantial damage to crops, and weather officials warned the remnants of the storm could bring heavy rain to the region for the next three days.