Trouble was brewing Wednesday over plans for a second bailout of Greece, as a bid to press money markets into contributing with European governments dramatically raised the odds of a default.
As the eurozone battle to avoid Athens going bankrupt hurtles towards an early-July repayments crunch, six-and-a-half hours of talks in Brussels ended in stalemate with ministers called to try again on Sunday in Luxembourg.
"The larger the private involvement, the bigger the risks of contagion," said Ivan Miklos of Slovakia as he left tbe late-night Tuesday talks in Brussels.
Despite hints of an emerging deal for a new 105-billion-euro-plus Greek financial rescue, ministers failed to clear the main obstacle -- persuading private investors to chip in one third of the bailout.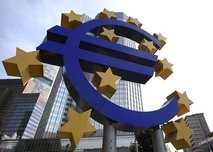 As the eurozone battle to avoid Athens going bankrupt hurtles towards an early-July repayments crunch
Germany and its allies thought that aim could be achieved by banks "voluntarily" accepting new delays on the collection of old debts over the coming months, instead of getting their money back from Athens as guaranteed by government contracts.
It is now doubtful, though, that a deal to averts a new financial crisis can be concluded as initially promised, when European Union leaders gather for their June 23-24 summit.
The chairman of the 17-nation currency Eurogroup, Luxembourg Prime Minister Jean-Claude Juncker, said it was a case of trying again on Sunday and Monday in his home town.
German Finance Minister Wolfgang Schaeuble and France's Christine Lagarde, whose government has sided more with the ECB, also batted away questions and even the Greeks left with a "no comment."
The International Monetary Fund (IMF) has warned it will not cough up its share of a 12-billion-euro tranche of last year's 110-billion-euro Greece bailout No. 1 without new money from partners.
Juncker's finance minister, Luc Frieden, said "the goal is really to have a solution by the end of this month.
"I'm not sure that we'll find a solution next week, but within the next two weeks," he added.
Germany and the ECB disagree over how much to ask banks, pension funds and insurers to stump up by way of a "rollover" or any more radical restructuring of Greece's 350-billion-euro ($500 billion) debt mountain.
"It's not only Germany and the ECB," Frieden said when asked if the main protagonists had patched up their differences.
Greece's debts equate to more than what its entire economy produces in 18 months. The ECB fears that forcing private investors to help out could see the credit ratings agencies deem Athens to be in default, a huge risk for the eurozone.
Standard & Poor's on Monday slashed Greece's credit rating to the lowest in the world -- sending the yield on 10-year Greek bonds spinning to a record high of 17.175 percent as the talks began.
Incoming ECB chief, Italy's Mario Draghi, said beforehand that putting a country into administration was far more unpredictable even than dealing with a busted bank's balance sheet.
"We know how to manage the bankruptcy of a company, we have just learned -- and I am not sure learned completely -- how to manage the default of a bank... We haven't yet learned how to manage a sovereign default," he told the European Parliament.
Belgium's Didier Reynders has said the latest plan would need more than 80 billion euros of international funding and Greek state sell-offs, plus another 25 billion from the private sector.
Reynders, who is often a reliable guide to negotiations throughout a debt crisis that has also seen Ireland and Portugal need bailouts, said banks had to "maintain their exposure to Greek debt over the next few years."
But even before Tuesday's talks began London-based Capital Economics said it had lost confidence in the policymakers' capacity to act.
"We are far from convinced and still expect a major default to take place eventually," their analysts said