Tunisian troops clashed with a group of armed Libyans overnight in southwest Tunisia, an official said Saturday, as a former Libyan prime minister reportedly made it to Italy after fleeing Tripoli.
Abdessalam Jalloud, who was a former prime minister ostracised from Moamer Kadhafi's regime, is thought to have fled Libya through Tunisia, in another sign that the Tripoli regime may be hanging by a thread.
In the skirmish late Friday, a Tunisian army patrol came under fire from armed men travelling aboard several 4X4 vehicles with Libyan registration plates in the Douz region, the official said, adding that there were no casualties on the Tunisian side.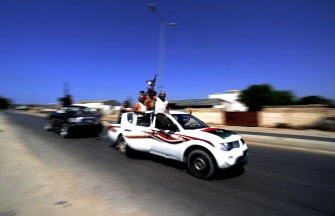 Libyan rebels raise their guns in celebration as they drive through the main road leading to Zawiya, some 40 kms west of Tripoli, on August 20, 2011
The official said the patrol was sent out Friday evening after a local resident reported suspicious vehicles north of Garaat Bouflija, and was fired upon.
Between five and eight Libyan vehicles were involved in the skirmish, which lasted several hours. No one was caught and the attackers were still being hunted Saturday by ground and air forces, the official said.
The assailants were Libyan, the official said, without specifying whether they were loyal to Kadhafi or from rebel forces.
A Tunisian helicopter meanwhile crashed on Saturday in the region close to the Libyan border, killing both the pilot and co-pilot, a military source said.
The helicopter was on mission patrolling the border in an effort to block armed groups from entering Tunisia in a possible escape from the conflict in Libya that is beginning to show concrete signs of a rebel victory.
It was across this border that Jalloud, Libya's former number two, is thought to have fled Libya before heading to Djerba and flying for Italy on Saturday, a senior Tunisian government official told AFP.
He took "a plane for Italy from Djerba airport at 3:40 am (0240 GMT)", an airport official on the resort island told AFP.
The government official said "Jalloud left Djerba airport for Italy at dawn on a Maltese plane with his family".
He could not say how many people boarded the flight.
Libya's state-run JANA news agency downplayed Jalloud's escape, saying he had remained out of politics for some time.
"Jalloud had remained away from politics out of his own free will, and spent most of his time abroad for (medical) care for heart disease," the agency said.
"There is nothing worth mentioning about Abdessalam Jalloud," it added.
Another source in Tunisia said Kadhafi's former close aide arrived in the southern Tunisian town of Remada overnight Friday.
"He surrendered to the Tunisian army before he was taken care of by Qataris," the source said, adding that Italy may only be a stopover before Jalloud settles elsewhere.
Qatar is one of the few Arab countries that is an active partner in the international intervention against the Kadhafi regime and is home to the Free Libya television station which it partly finances.
In the Italian capital foreign ministry spokesman Maurizio Massari would not confirm or deny the report.
"We are verifying this information," he said.