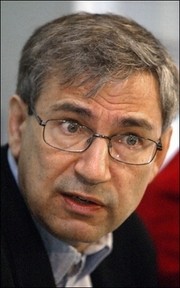 Turkish writer Orhan Pamuk
Turkish writer Orhan Pamuk, the author of "My Name is Red" and "Snow", won the 2006 Nobel Literature Prize, the Swedish Academy announced on Thursday.
The jury said Pamuk "in the quest for the melancholic soul of his native city (Istanbul) has discovered new symbols for the clash and interlacing of cultures."
The 54-year-old writer is Turkey's best-known author at home and abroad, but also a political rebel whose pronouncements on his country's history have put its respect for freedom of expression under the international spotlight.
He published his prize-winning first novel, "Cevdet Bey and His Sons", in 1982, and has drawn the ire of the Turkish state for denouncing the treatment of Turkey's Kurdish minority and speaking about the mass killings of Armenians under the Ottoman Empire.
Pamuk's name was among the frontrunners rumoured to win this year's prize.
He will take home the prize sum of 10 million kronor (1.07 million euros, 1.37 million dollars).
Last year, the honour went to British playwright Harold Pinter.
Pamuk will receive the Nobel Prize, which consists of money, a gold medal and a diploma, from Sweden's King Carl XVI Gustaf at a formal ceremony in Stockholm on December 10, the anniversary of the death of Alfred Nobel, the founder of the Nobel prizes, in 1896.
The Literature Prize was the fifth of the six coveted awards to be handed out this month, after the United States swept the science and economics prizes.
Last week, the Medicine Prize went to US research duo Andrew Fire and Craig Mello for their discovery of how to silence malfunctioning genes, a breakthrough which could lead to an era of new therapies to reverse crippling disease.
The Physics Prize went to US space scientists John Mather and George Smoot for a pioneering space mission which supports the "Big Bang" theory about the origins of the universe.
Roger Kornberg of the United States won the Chemistry Prize for work on a key process of life called genetic transcription, while US economist Edmund S. Phelps won the Economics Prize for his analysis of short- and long-term trade-offs in macroeconomic policy.
The Peace Prize, perhaps the most prestigious of the awards, will wrap up this year's Nobel season when the winner is announced on Friday.
Last year, it went to the UN nuclear watchdog IAEA and its Egyptian chief Mohamed ElBaradei for their efforts to halt the spread of nuclear weapons.
Source: AFP