Turkish troops entered northern Iraq early on Tuesday to flush out separatist Kurdish rebels, Jabbar Yawar, spokesman for the Iraqi Kurdish peshmerga security force, told AFP.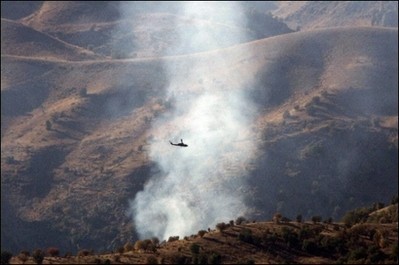 File photo taken in October shows a Turkish helicopter attacking an outlawed Kurdistan Workers' Party (PKK) camp in the Cudi mountains, on Turkey's side of the Turkish-Iraqi border (Photo: AFP)
The operation is the first reported ground incursion by the Turkish military inside Iraq since tension between Ankara and Baghdad erupted over the Kurdish rebel issue in October.

"The area they entered is a deserted area and there is no Iraqi force or peshmerga deployed there. We do not know how many Turkish troops" crossed the border into Iraq, Yawar said.

A leader of the rebel Kurdistan Workers' Party (PKK) also confirmed the operation by Turkish forces.

"Turkish infantry backed by aircraft entered the Iraqi borders in Khawakurt (on the Iraq-Turkey-Iran border) at 4:00 am," he said on condition of anonymity.

A local Kurdish television channel called Kurdistan, belonging to regional President Massud Barzani's party, said that the Turkish soldiers had penetrated several kilometers (miles) inside Iraq from an area called Seed Qan.

It said the troops had reached the villages of Khaya Rash, Bunwaq, Janarouq and Kelirosh.

"The troops are now based there," the TV station said.

The ground operation comes after Turkish warplanes bombed several villages along the Iraq-Turkey border on Sunday to target rebel hideouts in the region.

Residents said schools and bridges were destroyed in the foothills of the Qandil mountains along the border where the bombing took place.

Turkish military officials in Ankara contacted by AFP could not confirm that troops had crossed the border on Tuesday.

The mass-circulation Hurriyet newspaper suggested on its website that the troops could be commando units aiming to block the escape routes of PKK militants fleeing their camps after Sunday's air raids.

Tension between Iraq and Turkey has been high since October 21 when the rebel Kurdistan Workers' Party (PKK) ambushed a Turkish military patrol, killing 12 soldiers.

Since then Ankara has been threatening to launch a military incursion into Iraq to flush out PKK fighters hiding out in the mountainous north.

But lobbying by the United States and appeals by Baghdad stopped them from staging a full-fledged incursion.

Parliament in Ankara has also given its formal approval for the Turkish military to cross the border into northern Iraq.

The PKK has been fighting for self-rule in southeastern Turkey since 1984, and more than 37,000 people have been killed on both sides since the conflict broke out.

Sunday's air strikes were strongly condemned by Baghdad, which called it a "cruel attack" on Iraqi sovereignty.

The PKK has vowed to retaliate against Turkish targets.

"Our people have every right to defend themselves and to retaliate," the rebel group said in a statement carried by the Firat news agency, considered to be a PKK mouthpiece.

"This right is sacred and our people will do what is required," the statement added.

The European Union and the United Nations have expressed concern over Turkish military action inside Iraq.

On Sunday, Ankara's most senior general, Yasar Buyukanit, said Turkey had received tacit US consent for the operation after Washington provided intelligence and opening up northern Iraqi airspace.

The US State Department declined to confirm or deny what help might have been given to Turkey, saying only that the strikes were "in keeping with" past air raids in northern Iraq.

"That said, we want to make sure that the actions that are taken are done in an appropriate way, that hit only those targets that are PKK and avoid civilian casualties," State Department spokesman Tom Casey said.