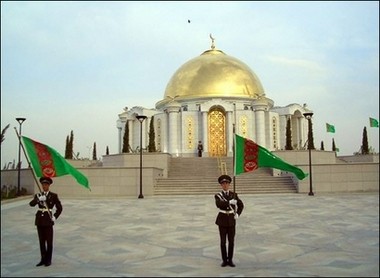 Family burial-vault of Turkmen leader Saparmurad Niyazov in Kipchiag-Buig village outside Ashgabad (AFP Photo)
Turkmenistan is preparing to bury its president-for-life, Saparmurat Niyazov, who ruled this gas-rich Central Asian nation for more than two decades, before dying suddenly, aged 66, without leaving an obvious heir.
Niyazov, who died Thursday from a heart attack, according to officials, is to be buried Sunday at the family mausoleum in his home village of Kipchak.
Police barred the road between the capital Ashgabat and Kipchak on Saturday and workers could be seen tidying the route where the funeral cortege for the self-declared Turkmenbashi, or Leader of all Turkmen, will pass from 0700 GMT.
The caretaker president, deputy prime minister Gurbanguly Berdymukhammedov, appeared on television late Friday promising the ex-Soviet republic would remain "stable." He also reassured foreign customers of Turkmen gas that deliveries would not be interrupted.
Yet many ordinary residents appear to be in genuine shock at his death.
"Who will replace him? Is there anyone who can replace him?" asked university student Maral Seyidova, 20, in Ashgabat. "We studied Turkmenbashi's wise sayings, his books, and we listened to everything he said. We thought he would be with us forever and that nothing bad could happen to him."
"I think that he felt for every one of us," taxi driver Alexei, 46, said, ennumerating the advantages of Niyazov's generous social policies. "Free gas, free electricity, water, tiny utilities bills. Now what will happen?"
The state funeral will begin with the lying in state of Niyazov's body at Ashgabat's presidential palace at 0400 GMT.
The corpse will then be taken to the Kipchak mausoleum, a building constructed by French contractors and already containing the remains of Niyazov's father, who was killed in World War II, and his mother, who died in a huge earthquake in 1948, orphaning the future Turkmen leader in his childhood.
The national mourning period will last until December 30.