Twelve people were killed in a bomb blast that rocked the main north Lebanese port city of Tripoli on Wednesday, a security official said, updating an earlier toll.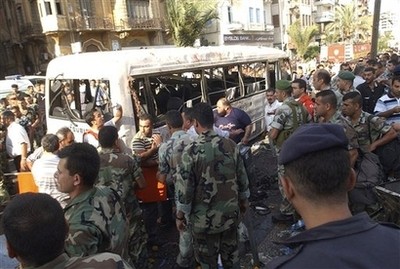 Lebanese soldiers secure the site of a roadside bomb in central Tripoli in northern Lebanon.(AFP Photo)
"Twelve people were killed, including nine Lebanese soldiers and a child," the official said.
The child was polishing shoes at the time of the blast and died in hospital.
The bomb, placed in front of a garage door close to a bus stop in the Masarif Street commercial district, exploded near a bus that was also carrying Lebanese soldiers.
The force of the blast blew the remains of some of the dead onto the roofs of nearby buildings, an AFP correspondent said.
Tripoli saw sectarian fighting last month in which 23 people were killed in battles between militants from the rival Sunni Muslim and Alawite communities in the neighbourhoods of Bab al-Tibbaneh and Jabal Mohsen.
Bab al-Tebbaneh is a stronghold of Sunni supporters of Prime Minister Fuad Siniora while the residents of Jabal Mohsen mainly support his largely Shiite rivals.
There has been tension between the two communities ever since Lebanon's 1975-1990 civil war. Alawites are an offshoot of Shiite Islam and straddle the border into neighbouring Syria whose President Bashar al-Assad is a follower of the faith.
The explosion came hours before Lebanese President Michel Sleiman, a former army chief, was due to hold a landmark summit with Assad in Damascus amid moves to establish diplomatic relations between the two countries for the first time.
It also came a day after a new national unity government formed by Siniora following 18 months of deadly tensions with his Shiite-led rivals finally won a vote of confidence in parliament.
The standoff between the two sides had pushed the country to the brink of a new civil war and was only ended by an Arab-brokered power-sharing agreement.