Two foreign nationals, believed to be Westerners, and an Afghan were killed in a shoot-out outside the offices of international courier company DHL in Kabul on Saturday, police said.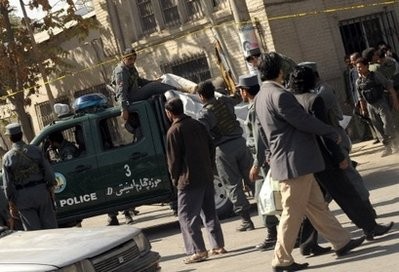 Afghan policemen sit on a vehicle carrying bodies from the site of a shoot-out in Kabul. Two foreign nationals, believed to be Westerners, and an Afghan have been killed in a shoot-out outside the offices of international courier company DHL in Kabul, police have said.(AFP/Massoud Hossaini)
Separately two Turks and two Bangladeshis were reported kidnapped in Afghanistan, which this year has seen a spiral in violence that has mostly been blamed on hardline Taliban militants.
The Kabul incident was the second fatal shooting of a foreign national in the Afghan capital in days, after a British-South African aid worker was gunned down on Monday in a killing claimed by the Taliban.
It was unclear what prompted Saturday's exchange of fire outside the DHL offices but one senior police official said an argument had erupted between the foreigners and some Afghans.
"Two foreigners and one Afghan have been killed," said Kabul deputy police chief Alishah Ahmadzai. Two people were also wounded, he said, without giving their identities.
The foreigners worked for DHL, said a spokesman in Berlin for the German post office, which owns the international courier.
"The two victims were DHL employees. They were not German," the spokesman told AFP. He was unable to give their nationalities or say what job they did.
There were various reports of their nationalities but none could be confirmed. A senior Afghan policeman said they were a South African and a Briton.
One, a man, was shot dead in the front passenger seat of a four-wheel-drive vehicle, said an AFP reporter who saw his body slumped in the seat. The front side window was shattered and the interior splattered with blood.
The other foreigner, also believed to be male, was in the back seat, according to a policeman. The vehicle was covered with a plastic sheet so witnesses could not see clearly inside.
The Afghan appeared to have been shot outside the vehicle, where blood was pooled, but his body was removed immediately. He was a guard, a police witness said. The foreigners were killed shortly after leaving their office and boarding the vehicle, a senior police official said.
"He was a very nice guy. He was a good friend of mine. What's going on here?" a witness said about of one of the victims, Walid Osman.
The killing comes just days after 34-year-old aid worker Gayle Williams was shot dead while she was walking to work in a western suburb of Kabul.
The Islamist Taliban claimed she was killed because SERVE Afghanistan, the British aid charity she was working for, was "preaching Christianity" -- a charge rejected by the group which works with disabled Afghans.
Authorities have not confirmed that the assassination was carried out by the Taliban. The Afghan government urged foreign nationals and aid workers afterwards to review their security.
Security has plummeted this year in Afghanistan, with insurgent attacks and crime both surging.
In other incidents, two Turkish nationals were kidnapped the eastern province of Khost along with their Afghan driver and translator, provincial governor Arsala Jamal said Saturday.
The kidnappings on Thursday could not be immediately confirmed by the Turkish embassy in Kabul.
The men had been contracted to erect a radio mast and were captured while driving to the town of Khost from an outlying district, Jamal said.
There had been no contact from the abductors who were unknown, he said.
A spokesman for the insurgent Taliban, which has carried out several kidnappings for ransom or to put political pressure on the authorities, said it was not responsible for the abduction and blamed bandits.
In Dhaka, the Bangladesh Rural Advancement Committee (BRAC) said two of its Bangladeshi staff were kidnapped in the central province of Ghazni on Friday.
"We don't know who abducted them and where they have been taken," said Mahbub Hossain, BRAC executive director.