North and South Korea have agreed to resume reunions for separated families following four days of high-level talks in Pyongyang, reports said Friday.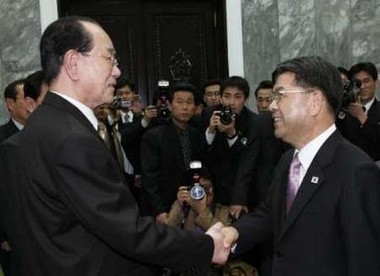 Chairman of North Korea's Supreme People's Assembly Kim Young-nam (L) greets South Korean Unification Minister Lee Jae-jeong in Pyongyang March 1, 2007.
The two nations, separated for half a century by minefields and barbed wire, will resume family reunions in early May, said the reports carried by Seoul's Yonhap news agency.
Reunions through video links will resume this month. The two sides also agreed immediately to resume work on a reunion centre at the North's tourist resort of Mount Kumgang.
The two Koreas, holding their first ministerial talks since the North's October nuclear test, have also narrowed differences on when food and fertiliser aid from the South should resume, the reports said.
The South wants to delay an economic cooperation committee meeting, which would decide details of the aid shipments, until April so it can see if the North is making good on a February 13 agreement to scrap its nuclear programme.
The North wants the meeting held this month.
Negotiators were holding a meeting to wrap up the talks before issuing a joint statement.