MANILA, July 14, 2010 (AFP) - Typhoon Conson ripped through the main Philippine island, leaving a trail of wreckage in Manila and sweeping shanties into the sea, officials and witnesses said Wednesday.
The official civil defence office said 19 fishermen from the eastern island of Catanduanes had failed to return home and were missing at sea after the typhoon hit the area late Tuesday.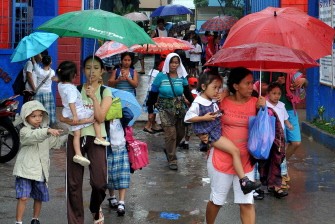 Parents pick up their children wearing protective rain gear after elementary school classes in the Philippine capital Manila are called off due to Typhoon Conson, on July 13, 2010. AFP
There were no immediate reports of fatalities but communication systems were down amid the chaos of the typhoon's aftermath, and disaster relief officials were still trying to determine the extent of the damage.
Electricity was knocked out throughout the main island of Luzon, including the country's capital where fallen tree branches and other debris littered the streets.
Manila's overhead railway system was also shut down due to the power outage. Knee-high floods and fallen trees were still blocking some roads in and around the capital, obstructing traffic.
Shanty towns erected by squatters on the coastal areas near Manila were swept away, leaving the shocked, drenched residents to scavenge scrap wood to build makeshift shelters, according to an AFP reporter there.
The government called off classes at grade and high school levels in Manila.
Several flights in and out of Manila were cancelled as Conson was passing but airport officials said their operations had returned to normal after the storm passed.
Conson, packing maximum gusts of 120 kilometres (74 miles) an hour, hit the eastern side of Luzon late Tuesday and crossed the island before exiting before dawn Wednesday, heading west into the South China Sea at 22 kilometres an hour.