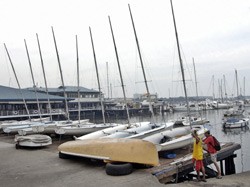 Workers secure boats in Manila, Nov. 30, 2006 in the face of rough waves brought by Typhoon Durian (AFP Photo)
About 108 people were killed and many more were missing after a major mudflow caused by super typhoon Durian hit villages near this eastern Philippine city, officials said Friday.

The 108 bodies were retrieved in the towns and villages of Daraga, Busay and Santo Domingo, said provincial relief official Cedric Daep.
He warned that the death toll could shoot up even further amid unconfirmed reports of large numbers of dead in the village of Padang.

Source: AFP