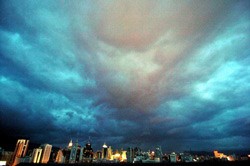 Dark clouds hang over the southeastern Chinese coastal city of Fuzhou on August 8, 2006, as authorities wait for Typhoon Saomai to hit (AFP Photo)
Typhoon Saomai, which struck eastern China on Thursday afternoon, caused the deaths of at least 104 people, with 190 others missing, the State Flood Control and Drought Relief Headquarters said on its website.
The deaths occurred in the eastern province of Zhejiang and Fujian province directly to the south, it said, without giving more specific details about where the people had died or gone missing.
The Xinhua news agency had given a slightly lower death toll earlier Friday, but with an account of where most of the devastation occurred.
Eighty-one people were killed and 11 others left missing in Wenzhou, one of the biggest cities in Zhejiang with a population of 7.7 million people, Xinhua said.
In Fujian, 17 people were killed with another 138 others missing, it said.
Saomai was generating winds of up to 216 kilometers (135 miles) an hour when it hit Zhejiang Thursday, making it the strongest typhoon to strike China since 1956, the China Meteorological Administration said on its website.
Saomai was downgraded early Friday to a tropical storm with winds of only around 70 kilometers an hour but continued heavy rains ensured there would be no respite for the residents of Wenzhou and other storm-battered areas.
Wenzhou was suffering from severe flooding on Friday, with more than 210,000 people lacking clean drinking water, according to Xinhua.
More than 30 centimeters (12 inches) of rain was dumped across areas of Zhejiang and Fujian in just 12 hours, Xinhua said, citing local officials.
The central government's flood control headquarters said economic losses in Zhejiang and Fujian had reached 11.25 billion yuan (1.4 billion dollars).
It said 54,000 homes had been destroyed, with 122,700 hectares of farmland (303,000 acres) rendered useless from the high winds and floods.
As part of the emergency rescue efforts, 20,000 soldiers and security officials were deployed to the affected regions, Xinhua said.
Ahead of the typhoon hitting the coast, about one million people were evacuated from Zhejiang while another 620,000 were forced from their homes in Fujian, Xinhua said.
Saomai, named after the Vietnamese word for the planet Venus, was the eighth typhoon or major storm to hit China's eastern coast over the past two months in what has been an unusually brutal summer.
Typhoon Prapiroon, which made landfall last week, killed at least 18 people and Tropical Storm Bilis, which hit on July 14 and hovered over eastern and central China for 10 days, killed over 600 people.
State media said on Wednesday that natural disasters killed nearly 987 people and left another 310 missing across China in July.
Natural disasters in China for all of this year had killed 1,699 people and left another 415 missing, the nation's Red Cross Society said in a report carried by Xinhua on Thursday.
The disasters have impacted the lives of 300 million people and led to more than 130 billion yuan in economic losses, the Red Cross said.
As the floods from the typhoons have ravaged eastern China, the southwestern province of Sichuan has endured an increasingly worse drought, the China Daily newspaper reported Friday.
Nearly seven million people in Sichuan are in urgent need of drinking water due to the months-long drought, it said.
Source: AFP