The Philippines has incurred huge losses in the agriculture sector amounting to almost 3 billion pesos (nearly 61 million USD) due to typhoon Sarika, the country's Ministry of Agriculture said on October 18.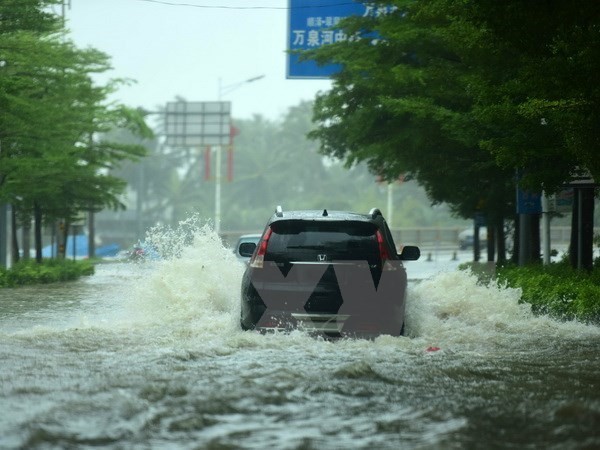 Flooding inundates many roads in Hainan province, China (Source: Xinhua/VNA)
A total of 260,002 hectares of agricultural areas, with an estimated production of nearly 216,000 tonnes, and over 86,000 farmers were affected by the storm. Main affected products were rice, corn and vegetables.
Typhoon Sarika landed in Aurora province in the north of the Philippines on early October 17. The country is now keeping a close watch on and preparing measures to cope with typhoon Haima, locally named as Lawin, which is forecast to make a landfall in the northern province of Cagayan by early October 20.
Typoon Sarika also hit Hainan province of China on early October 18, bringing heavy rain and strong winds.
Local authorities said over 13,700 locals were evacuated from low areas and unsafe houses.
About 250 flights from and to Meilan international airport in Haikou were canceled on October 18 morning.
Meanwhile, high-speed vessels in Hainan island were suspended from October 17, and schools and tourism sites were also closed.-