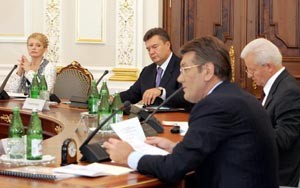 Yulia Tymoshenko (L), leader of the 'Yulia Tymoshenko Bloc', Viktor Yanukovich (2L) leader of majority coalition of Ukraine's parliament, speaker of the Parliament Aleksander Moroz (R) listen to President of Ukraine Viktor Yushchenko (2R) speak during a round table meeting in Kiev, July 27, 2006.
Ukrainian President Viktor Yushchenko faced a deadline Wednesday to either name a new prime minister -- probably his arch-rival Viktor Yanukovych -- or dissolve parliament, as a four-month political crisis came to a head.
Yushchenko's office had promised he would nominate a prime minister by Wednesday as the constitution gives him 15 days to make a decision after receiving a formal coalition proposal.
Yanukovych's Regions party made such a proposal on July 18.
Rival pro-Western and pro-Russian leaders have been jockeying for position since parliamentary elections on March 26, presenting sharply different visions of where this country of nearly 47 million people should be headed.
At the elections, Regions won the most parliamentary seats but failed to gain an overall majority.
Yushchenko held talks Tuesday with key political figures, at which he stressed "the importance of finding a compromise", his office said, adding that dissolving parliament was seen as a last resort.
But a number of newspapers said that a dissolution of parliament and fresh elections looked the most likely outcome.
"The longer this show goes on ... the stronger the impression gets that it will end up with a new election," the Gazeta Po-kievski daily said Wednesday.
The Ukrainian leader has baulked at appointing Yanukovych, having faced down the pro-Russian politician in a 2004 popular uprising known as the "orange revolution".
Hundreds of thousands of people participated in the 2004 peaceful protests that eventually overturned a presidential election result that had given Yanukovych the presidency, a result that independent observers said had been falsified.
Yushchenko has sought promises from Yanukovych that if appointed prime minister he would maintain the current policy of integration with the West, primarily by trying to join the North Atlantic Treaty Organisation (NATO) and the European Union.
The idea of Ukrainian membership of the EU and NATO has prompted consternation in Russian military and political circles as Moscow has long considered Ukraine part of its sphere of influence.
Yushchenko has been all the more concerned as the new prime minister is set to take on additional powers at the expense of the presidency under constitutional changes that were agreed in the course of resolving the "orange revolution".
His glamorous "orange revolution" ally, Yulia Tymoshenko, has adamantly opposed a return to power by pro-Russian political forces, saying it would be better to dissolve parliament than "betray" those who came onto the streets.
The political divide in Ukraine, which roughly splits the east and west of the country, has had an impact on efforts to join NATO, as alliance members cancelled military exercises on the Crimean Peninsula in June following anti-NATO protests there.
But despite warnings that the crisis could have an impact on badly needed investment, the economy has shown signs of picking up.
Gross domestic product grew by an average of five percent for the first six months of this year, while in the first quarter, foreign direct investment was four times the level in the same period last year, according to the state statistics committee.
Source: AFP