The International Atomic Energy Agency does not know whether the recent bomb test by Democratic People's Republic of Korea (DPRK) was nuclear, or how much material may have been used to make the device, the agency's chief inspector said Monday in Vienna.
"I don't think anyone on earth but the DPRK... knows how much nuclear material was used... (or) if it was a nuclear explosion," IAEA Deputy Director General for Safeguards Olli Heinonen told journalists.
"We have located where this place might have been," he added however, without giving any more details.
Experts say the blast from the underground nuclear test, announced by Pyongyang on October 9, was unusually low. The Comprehensive Nuclear-Test-Ban Treaty Organization (CTBTO) said it had registered a tremor measuring about 4.0 on the Richter scale.
Heinonen, who was speaking at the opening of a one-week symposium bringing together some 500 experts to discuss how to improve nuclear safeguards, said inspectors on the ground were still "the backbone of verification."
The IAEA will only know for sure what happened when its inspectors, kicked out of North Korea in 2002, are allowed back into the country, he added.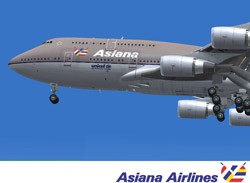 Asiana Airlines has cancelled its charter flights to DPRK
Nuclear Test Halts Inter-Korean Charter Flights
The Republic of Korea (RoK)'s Asiana Airlines said Monday it had cancelled its charter flights to DPRK in the wake of the state's declared nuclear test.
The country's second-largest carrier, said all five charter flights between October and early November were put on hold immediately after the October 9 announcement.
RoK's civic groups and travel agents attending cultural events or festivities in Pyongyang were the airline's main customers.
Korean Air, the largest carrier, had no scheduled inter-Korean flights.
Both Korean Air and Asiana said the declared test did not affect regular international flights, including those on routes crossing North Korea's territorial waters.
Korean Air flies three times a week across DPRK territorial waters in the Sea of Japan (East Sea) to the United States.
Asiana planes made a detour on the route on October 9 and 10 for safety reasons but returned to it on October 11, Lee said.


Australia Bans DPRK Ships From Its Ports: FM
Relating to the sanctions imposed on DPRK, Australia on Monday banned DPRK's ships from its ports as it moved to ramp up sanctions against the state following last week's declared nuclear test.
"From today DPRK-flagged ships will be prevented from accessing Australian ports," Foreign Minister Alexander Downer said in a statement.
Australia joins nations such as Japan in outlawing North Korean vessels from its ports.
Downer last week also banned the issue of visas to DPRK's people wishing to visit Australia, one of only a handful of countries in the world to maintain diplomatic relations with Pyongyang, following last week's nuclear test.