UN Secretary General Ban Ki-moon paid an unannounced visit to Baghdad on Friday, where he will meet Prime Minister Nuri al-Maliki one day after the premier's bloc swept to victory in provincial elections.
"Mr Ban Ki-moon is here in Iraq to reiterate the UN's commitment to the country," UN spokesman Said Arikat told AFP.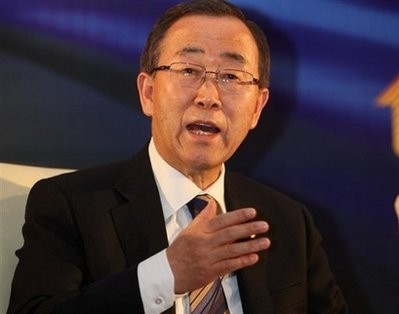 UN Secretary General Ban Ki-moon
"He will meet the prime minister and above all congratulate the Iraqi people on the success of largely violence-free elections," he said.
Ban also met Iraqi President Jalal Talabani on Friday, an AFP reporter said.
The UN chief's surprise visit comes after preliminary results of Saturday's election showed candidates backed by the premier dominated in Baghdad and eight of the country's nine Shiite provinces.
The result was a huge vote of confidence for Maliki, whose standing has steadily grown at home and abroad in the past year.