UN chief Ban Ki-moon is to arrive in Sri Lanka on a 24-hour mission to press for unrestricted humanitarian access to an estimated 280,000 civilians displaced by the war on Tamil rebels.
The secretary general was expected just before midnight ahead of talks Saturday with President Mahinda Rajapakse and Foreign Minister Rohitha Bogollagama.
It follows the routing of the Tamil Tiger rebels -- and the death of their leader Velupillai Prabhakaran -- that ended a bitter decades-long war for a Tamil homeland.
"Tonight, I leave for Sri Lanka. You have all watched what is happening," the UN head said before leaving for the island.
"You all empathise with the plight of people trapped by fighting and living in terror and grave hardship."
Ban's chief of staff Vijay Nambiar told reporters in Colombo that his boss would tour the sprawling Manik Farm area in the northern district of Vavuniya, where most of the people displaced by the recent fighting are housed.
The camps are ringed by barbed wire and those displaced by the fighting have no freedom of movement.
Weather permitting, the UN chief would also fly over the northeast areas where the final stages of the war were fought to see the devastation for himself, Nambiar said.
"We hope that the secretary general's visit can help begin a process of national recovery, renewal and reconciliation for all Sri Lankans," Nambiar said.
He said he was "deeply moved" when he flew over the war zone on Thursday.
"It almost looked like a ravaged area. Large number of vehicles burnt, clumps of trees, clumps of tents. The absence of human life was eerie, except for few soldiers," he said.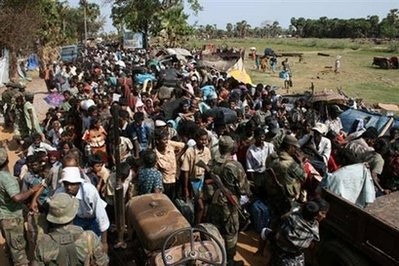 A handout picture released by Sri Lankan Defence Ministry on May 16 allegedly shows civilians who managed to escape from the last remaining Tamil Tiger rebel-held patch of coastline in Mullaittivu.
The high-profile visit comes as UN and relief aid agencies complain about restrictions placed by Colombo authorities on vehicle access to relief camps.
International aid group Oxfam urged the Sri Lankan government Thursday to ease restrictions on access camps, warning that a ban on aid vehicles was putting thousands of lives at risk.
The International Committee of the Red Cross and UN agencies also protested about "curtailed" access, including to Manik Farm, after restrictions imposed last weekend.
The 20-plus reporters travelling with Ban, including AFP, are to get a rare glimpse of Manik Farm and the conflict zone.
In announcing his visit in Geneva earlier this week, Ban said that he was relieved by the conclusion of military operations "but deeply troubled by the loss of civilian lives."
The Sri Lankan government announced Monday that it had wiped out the rebel leadership and retaken the final patch of territory from the guerrillas who ran a de facto state in the Indian Ocean island's northeast only two years ago.
The conflict has cost up to 100,000 lives, according to UN estimates. The world body says the government's offensive against the rebels has claimed more than 7,000 civilian lives since the start of the year.
Ban has also made it clear that he wants to see swift progress not only on immediate humanitarian aid and reconstruction, but also on reconciliation with the disenfranchised Tamil minority, which make up 12.6 percent of Sri Lanka's population of 20 million.
"Progress on all three fronts must be in parallel, and it must begin now," Ban said Tuesday, adding that any serious allegations of war crimes "should be properly investigated."
US Secretary of State Hillary Clinton conveyed a similar message in a phone call Thursday to Rajapakse, according to a State Department official.
Also Thursday, Rajapakse appealed for an end to the ethnic divisions in Sri Lanka, which has a Sinhalese majority, saying the Tigers' defeat should usher in an era of unity.
"I see it as the duty of all to ensure that all differences that hitherto divided our people are subsumed in the great and momentous joy that is shared by us all," he said in a statement.