UNITED NATIONS, Feb 10, 2011 (AFP) - The UN Security Council will hold a closed meeting Monday on border clashes between Thailand and Cambodia with the foreign ministers from the two nations, diplomats said.
Thai Foreign Minister Kasit Piromya, Cambodia's Hor Namhong and Indonesia's Foreign Minister Marty Natalegawa, who has been trying to mediate in the dispute, are expected to speak to the council, diplomats said.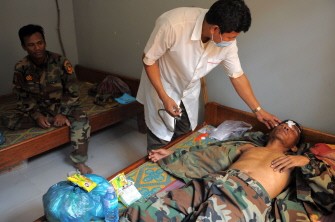 A Cambodian doctor checks a wounded soldier at a military hospital after fighting on February 4 to 7 at the Preah Vihear temple. AFP
A spokesman for the Brazilian mission, which holds the Security Council presidency for February, said Monday's meeting would be behind closed doors.
Thailand and Cambodia have blamed each other for the clashes around the ancient temple of Preah Vihear, which have left at least eight dead in the past week.
Cambodia's Prime Minister Hun Sen sought an urgent Security Council meeting and called for a UN buffer force to be put in place. Thailand has said the dispute should sorted out between the two countries.
UN Secretary General Ban Ki-moon spoke with the prime ministers of Thailand and Cambodia on Tuesday again offered new UN help to negotiate a peace deal.