LONDON, June 12, 2011 (AFP) - The UN Security Council must make a "clear statement" on Syria by proceeding with a resolution condemning the crackdown by government forces, British Foreign Secretary William Hague said Sunday.
As international outrage at the brutal crackdown on demonstrators mounted, Hague said the prospects for a resolution were "on a knife-edge".
Hague also told Sky News that it was "high time" that Syrian President Bashar al-Assad spoke to UN Secretary General Ban Ki-moon.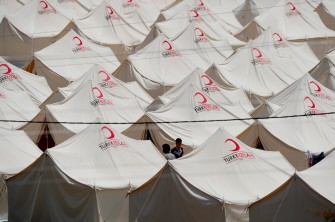 AFP - Syrian refugees walk past tents at the Boynuyogun Turkish Red Crescent camp in the Altinozu district of Hatay, near the Syrian border, on June 12, 2011.
UN officials say Assad has been refusing to take telephone calls from Ban, who has become an outspoken critic of the Syrian leader since protests erupted in March in which at least 1,100 people have been killed.
Britain, France, Germany and Portugal have shown their frustration at opposition to a resolution from some of the 15 Security Council members, and behind-the-scenes talks were continuing through the weekend.
Russia and China have opposed the resolution and South Africa, Brazil and India have also expressed strong reservations.
Syrian state television said Sunday that troops had fought violent battles with "armed gangs" in the flashpoint town of Jisr Al-Shughur, where members of the security forces were killed this month.