The UN atomic watchdog's deputy director general, Olli Heinonen, arrived in Tehran on Thursday for two days of talks on Iran's nuclear programme, a source in the Iranian atomic energy organisation told AFP.
The visit came a day after six world powers agreed to consider new sanctions against Iran after Western governments rejected its response to their latest offer to resolve the standoff.
But it was not clear that Heinonen's visit was directly related to the the incentives being offered by the world powers to Iran to freeze its work on uranium enrichment.
A diplomat close to the International Atomic Energy Agency, said Heinonen's visit was likely to concentrate on clarifying outstanding questions the watchdog has about Iran's nuclear programme rather than the incentives offer.
Heinonen has made a series of visits to Iran as part of the agency's longstanding efforts to make sure there is no military dimension to the programme, the last on April 28.
That visit focussed on studies that the IAEA suspects Iran carried out in the past into the engineering involved in making a nuclear warhead.
But the Iranian atomic energy organisation source insisted that those "alleged studies" would not be on the agenda of the new talks.
In his last report on Iran in May, IAEA chief Mohamed ElBaradei accused Tehran of withholding key information on the so-called weaponisation studies.
Iran dismissed the allegations as "baseless", insisting it had provided a comprehensive response.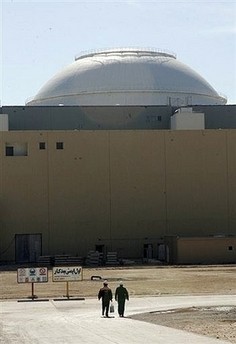 Technicians walk in front the reactor building of the Bushehr nuclear power plant, in southern Iran
It has since gone further with Vice President Gholam Reza Aghazadeh, who heads Iran's atomic energy organisation, insisting that the alleged weaponisation studies were not a matter for the UN watchdog.
"We are dealing with it through other channels. Measures have already been taken and we will follow them up if necessary and if appropriate," Aghazadeh said on July 24.
On Wednesday, Britain and the United States said the six powers now had "no choice" but to seek new UN sanctions from the Security Council after Iran failed to give a "clear positive response" the previous day to their latest offer.
Tehran has already been slapped with three sets of UN sanctions over its failure to heed successive Security Council ultimatums to suspend uranium enrichment, the process at the heart of Western fears that it is seeking to develop an atomic bomb.