LOS ANGELES, Feb 21, 2011 (AFP) - The UN Security Council will meet Tuesday to discuss the crisis in Libya, UN Secretary-General Ban Ki-moon said, noting he had spoken to Libyan leader Moamer Kadhafi and called for restraint.
"I urged him that the human rights and freedom of assembly and freedom of speech must be fully protected," Ban said of his 40-minute telephone conversation with the man who has ruled Libya for 41 years.
"I forcefully urged him to stop the violence against demonstrators and I again strongly underlined the importance of respecting human rights of those demonstrators," he said ahead of the meeting set for 1400 GMT in New York.
The UN chief stressed that "the aspirations and concerns of the people should be fully respected and heard by the authorities of the countries concerned."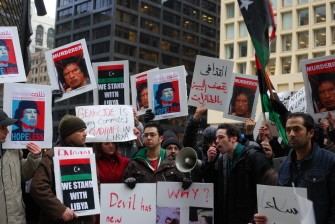 Protesters gathered in a downtown Chicago plaza on February 21, against Moamer Kadhafi. AFP
He spoke to a small group of reporters in Los Angeles shortly after issuing a statement saying he was "outraged" over reports that Libyan security forces fired on demonstrators from war planes and helicopters.
"Such attacks against civilians, if confirmed, would constitute a serious violation of international humanitarian law and would be condemned by the secretary-general in the strongest terms," UN spokesman Martin Nesirky said.
Ban "once again calls for an immediate end to the violence," added the statement, which said he has been in close touch with key states over the crisis.
In his conversation with Kadhafi, Ban also called on the longest-serving Arab ruler to "immediately" halt violence in the North African country and launch a broad-based dialogue with the opposition.
Protesters meanwhile took control of several Libyan cities and a growing number of regime figures defected. International rights groups estimate the unrest has left up to 400 people dead.
Kadhafi, in his first comments since protests erupted last Tuesday in the east of the oil-rich nation, denied he had fled his country amid claims of a "massacre" in the capital Tripoli.
Ban stressed the need to "ensure the protection of the civilian population under any circumstances," Nesirky said.