Up to 35 Taliban insurgents were killed in an assault on a militant camp near the border with Pakistan overnight, the Afghan and US militaries said Thursday.
Security forces were tipped off about a gathering of militants linked to the Taliban's Haqqani network in the eastern province of Paktika and raided the encampment in the early morning, they said.
The operation was aimed at capturing a wanted Haqqani commander named Sangeen, a US military statement said, describing the militants as "suspected foreign fighters."
It did not say if Sangeen, whom the military said carried a 50,000-dollar reward for his capture, was caught or killed.
The Haqqani network is linked to Al-Qaeda and said to be responsible for deadly attacks on both sides of the border, including in the Afghan capital.
"Today was very significant operation that killed about 30 -- we are not certain of the number at the moment," US military spokesman Colonel Greg Julian told AFP in Kabul.
At least six of those who died wore suicide vests, which they detonated killing only themselves, although one blast wounded a coalition soldier, a US statement said.
The Afghan defence ministry said fierce clashes continued for hours.
"As a result a 35-member enemy group affiliated to a terrorist commander known as Sangeen... was eliminated," it said.
The ministry also said six militants blew themselves up before they could be arrested.
Paktika province government spokesman Hameedullah Zhohak told AFP that the militants left behind 27 motorbikes, four vehicles and more than 30 rocket-propelled grenades, machine-guns and automatic rifles.
The fighting took place in Wor Mamay district, which borders Pakistan's violence-torn Baluchistan province and is near the neighbouring country's semi-autonomous tribal areas, where Al-Qaeda and Taliban have bases.
The clash follows days of heavy fighting and stepped-up attacks in Afghanistan, where 34 people were reported killed on Wednesday.
Among them, the US military said troops had killed four militants in a raid to capture a Haqqani commander in the province of Logar, near the capital.
The Haqqani network was founded by Afghan Soviet resistance commander Jalaluddin Haqqani but is now believed to be led by his sons, notably Siraj Haqqani.
The US government has offered a five-million-dollar reward for the location, arrest or conviction of Siraj Haqqani, said to be one of the most powerful commanders in the Taliban network.
He has reportedly admitted to an attack targeting a five-star hotel in Kabul in January 2008 and the attempted assassination of President Hamid Karzai at a military parade in the capital in April 2008.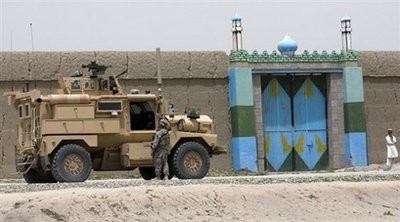 US troops take up a defensive position outside a local residence during a patrol in Paktika province, in eastern Afghanistan in April 2009.
The US military said the man targeted in the Paktika raid, Sangeen, was responsible for numerous attacks against forces in eastern Afghanistan.
"He has also planned and coordinated the movement of Al-Qaeda senior leaders and hundreds of foreign fighters from Pakistan to Afghanistan," it said.
The militants are said to cross into Afghanistan to carry out attacks and then withdraw across the border.
The British defence ministry announced meanwhile that two of its soldiers had died after attacks in the southern province of Helmand. One was killed in a bombing on Thursday and the other died after being wounded in a blast on May 22.
Before the latest deaths were announced on Thursday, 113 foreign soldiers had lost their lives in Afghanistan this year, according to a toll maintained by the icasualties.org website.