Zimbabwe President Robert Mugabe and the main opposition faced mounting pressure on Tuesday to end their feud over forming a unity government, ahead of a new emergency African summit to tackle the crisis.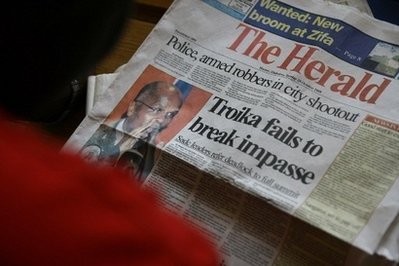 A man reads "The Herald" in Harare. Zimbabwe President Robert Mugabe and the main opposition are facing mounting pressure to end their feud over forming a unity government, ahead of a new emergency African summit to tackle the crisis.(AFP/Alexander Joe)
After 13 hours of talks with a regional security body on Monday, Mugabe and opposition leader Morgan Tsvangirai remained deadlocked over who should control the powerful home affairs ministry, which oversees the police.
They agreed only to call for an urgent summit of the 15-member Southern African Development Community (SADC), which is certain to pile pressure on the rivals to stick to the unity accord signed six weeks ago.
SADC's executive secretary Tomaz Salomao told reporters during the night that the summit could be held either in Harare or a neighbouring capital, though it was unclear exactly when the leaders would gather.
The regional bloc has tried for seven years to press Mugabe into a compromise with Tsvangirai, but its members are deeply divided over Zimbabwe.
Some leaders are strong allies of Mugabe, who is still respected as a liberation hero, while others blame him for leading the country into economic ruin, causing waves of migrants to cross its borders to seek work.
The power-sharing deal brokered by former South African president Thabo Mebki had been hailed as a success for so-called "quiet diplomacy," which avoided publicly condemning Mugabe for alleged human rights abuses or economic woes.
But analysts say the failure of Mugabe and Tsvangirai to agree even on cabinet posts bodes ill for a unity government, even if the SADC summit pressures them into a deal.
"We don't expect much from SADC if SADC does not flex its muscle and put pressure on them to reach a compromise," said Lovemore Madhuku, of the National Constitutional Assembly pressure group.
"Both groups are changing goal-posts and one wonders why they signed the agreement," he told AFP. "We are not very hopeful."
The summit Monday was held by SADC's security organ -- its second meeting in two weeks which failed to achieve any visible headway in reaching a compromise.
After the latest talks with South African President Kgalema Motlanthe and other key regional leaders, Salomao said that control of home affairs was the only sticking point.
A communique issued after the summit urged the rivals "to genuinely commit themselves in finding a lasting solution to the current deadlock.
"The people of Zimbabwe are faced with difficult challenges and suffering that can only be addressed once the inclusive government is in place," it said.
The power-sharing deal calls for 84-year-old Mugabe to remain as president while Tsvangirai becomes prime minister.
But Mugabe has refused to cede control of home affairs, which Tsvangirai's Movement for Democratic Change (MDC) says it should hold to reassure its supporters who suffered political violence during election campaigning this year.
Tsvangirai, who won the first-round presidential race in March, pulled out of a run-off in June and accused the ruling party of coordinating attacks that left more than 100 of his supporters dead.
The current political battle has crushed the hopes of ordinary Zimbabweans yearning for an end to the turmoil.
Zimbabwe's economy is in freefall with the world's highest inflation rate, estimated at 231 million percent.
Once seen as an African success story, Zimbabwe is now one of its failures with more than 80 percent of its population plunged into poverty and nearly half its people in need of international food aid.