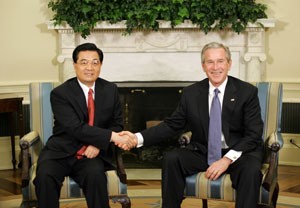 US President George W. Bush (R) and Chinese President Hu Jintao answer questions from the press during their Oval Office meeting 20 April, 2006 (AFP Photo)
The US and Chinese Presidents agreed on the need to ease trade tensions and work together to keep the nuclear ambitions of Iran and North Korea in check.
Mr. Hu, making his first official visit to the United States, said he and Mr. Bush had "reached a broad and important agreement on China-US relations and regional and international issues of mutual interest."
"We agreed to maintain regular high-level exchanges and increase interactions at various levels," the Chinese leader said after the talks with the US president.
Mr. Bush said the two countries would "deepen our cooperation in addressing threats to global security, including the nuclear ambitions of Iran, the genocide in Darfur, Sudan, the violence unleashed by terrorists and extremists and the proliferation of weapons of mass destruction."
Yet the summit, the leaders' first meeting since Mr. Bush's trip to Beijing in November, produced no concrete sign of progress on a raft of issues separating their countries.
Mr. Bush raised the possibility of a tough UN action against Iran for its suspected nuclear arms program. He urged Beijing to use its "considerable influence" over North Korea to rein in Pyongyang's weapons activities.
But in an implicit rebuff to the US refusal to take the option of military force off the table, Mr.Hu stressed the need to "seek a peaceful resolution of the Iranian nuclear issue."
Mr. Hu also acknowledged the six-party talks on North Korea's nuclear program had run into "difficulties" and called on all parties to display flexibility to allow the negotiations to resume.
On Taiwan, which China considers a breakaway province, Mr. Bush counseled the Chinese to avoid confrontation and unilateral action. Mr. Hu responded with a vow to oppose Taiwan's secession from the mainland "by any means."
Mr. Bush pressed US complaints about China's undervalued currency, tight market access and rampant piracy -- which critics say contribute to a 201.6 billion dollar US trade deficit.
Mr. Hu acknowledged there had been "frictions" over economic relations but offered no new prescription other than a promise to "continue to advance the reform" of the exchange rate.
Mr.Bush delivered another lecture on "the importance of respecting human rights and freedoms" in China and asked Mr. Hu whether there would be democracy in his country.
Mr. Hu replied"I don't know what you mean by a democracy. But what I can tell you is that we always believe in China that if there is no democracy, there will be no modernization."
AFP -SGGP