U.S. and North Korean officials held talks on Monday aimed at eventually normalising diplomatic ties as part of an agreement under which Pyongyang has pledged to scrap its nuclear arms programmes in exchange for aid.
The talks in New York marked the highest-level such meeting on U.S. soil since communist North Korea's leader, Kim Jong-il, sent a top envoy to Washington in 2000 in an abortive effort to improve relations.
North Korean envoy Kim Kye-gwan and his U.S. counterpart, Assistant Secretary of State Christopher Hill, held the first of two days of discussions on how to resolve problems between two countries that have been bitter foes since the 1950-1953 Korean War.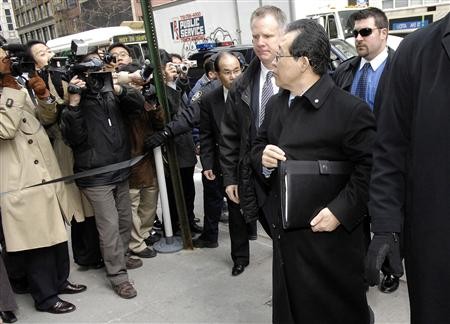 North Korean envoy Kim Kye-gwan (2nd-R), who will meet his American counterpart, Assistant Secretary of State Christopher Hill, arrives for meetings in New York March 5, 2007
President George W. Bush in 2002 labelled North Korea part of an "axis of evil." And antipathy to the United States has been a core element of Pyongyang's identity for five decades.
Despite the historic enmity, Kim Kye-gwan's meeting with U.S. nuclear and Korea experts earlier on Monday showed a "sea change in tone and substance" from recent exchanges, said nuclear expert Jim Walsh of the Massachusetts Institute of Technology, who participated.
"Both sides are talking differently and treating each other differently," Walsh said of the unofficial meeting, attended by eight North Koreans and 15 Americans, including Victor Cha, Asia chief of the U.S. National Security Council.
BREAKTHROUGH SEEN UNLIKELY
Monday's official session was followed by a working dinner and Tuesday's talks were expected to run all day, a U.S. State Department official said in New York. Neither Hill nor Kim Kye-gwan spoke to the media after their meeting.
Earlier in Washington, U.S. State Department spokesman Sean McCormack played down expectations of any breakthrough.
"I would expect that it ... would take some time in order for that process to be completed," he told reporters. "It would be a matter of building up trust, it would be a matter of performance and today is just an initial discussion."
"Underlying all of this, North Korea can realise a different kind of relationship with the rest of the world. The pathway is open to them," he said. "There is also another pathway of isolation ... if they do not perform."
Bilateral issues to be discussed include Washington's designation of North Korea as a state sponsor of terrorism and U.S. trade sanctions against it under the Trading with the Enemy Act, the U.S. State Department said.
Washington will seek Pyongyang's assurances that it is committed to following through on an agreement to shut down within 60 days its main nuclear facility and allow inspectors in return for 50,000 tons of fuel oil.
The New York meeting is part of the first stage in implementing the February 13 deal reached in Beijing by the Koreas, the United States, Japan, Russia and China after three years of talks punctuated by North Korean's October nuclear test.
Further steps to fully "disable" North Korea's nuclear weapons program will gain the impoverished state an additional 950,000 tons of oil or other forms of aid of equivalent value.
Before the next round of six-party nuclear talks on March 19, North Korea is set to hold discussions with Japan in Hanoi and separate meetings on energy aid, the denuclearization of the Korean Peninsula and regional security.
Wendy Sherman, a former U.S. negotiator with North Korea, said Kim Kye-gwan's meeting at the non-profit Korea Society with experts that included former Secretaries of State Henry Kissinger and Madeleine Albright, was "positive, cordial, open and fairly expansive."
"That said, at the end of the day this comes down to the negotiations that will go on," she added.