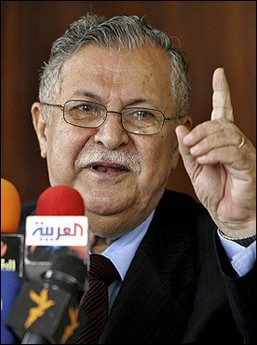 Iraqi President Jalal Talabani
US forces have detained two Iranians who were invited to Iraq by President Jalal Talabani as part of an agreement to build better security links between the countries, an Iraqi spokesman said Monday.
"Two people who were invited by the president to Iraq have now been apprehended by the Americans, and the president is unhappy with the arrests," Hiwa Osman, President Talabani's media adviser, told AFP.
"The invitation was within the framework of an agreement between Iran and Iraq to improve the security situation," he added.
Talabani's confirmation of the arrests came after the New York Times, citing senior US officials, reported that a total of four Iranians were arrested by US forces in Iraq last week on suspicion of planning attacks on Iraqi troops.
Osman could confirm only two arrests, but did not rule out that there could have been more. "I can't confirm the number of arrests," he said.