The United States and China have put differences over human rights aside and pledged to work more closely in tackling the global economic crisis and climate change.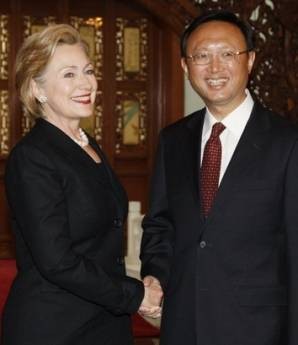 US Secretary of State Hillary Clinton (left) is greeted by Chinese Foreign Minister Yang Jiechi in Beijing, on February 21. (AFP Photo)
Giving hope for a new era of co-operation between the world powers, visiting Secretary of State Hillary Clinton and Chinese Foreign Minister Yang Jiechi said they will plan for the Group of 20 (G-20) summit in London on April 2.
"As we start the new administration of President (Barack) Obama, we want to deepen and broaden our relationship," Clinton said as she began a meeting with Chinese Foreign Minister Yang Jiechi.
"We believe we have established a solid foundation but there is much work to be done.
"And it is in our view imperative that the United States and China cooperate on a range of issues from the economy to global climate change to development and so much else."
One of the most immediate areas on which the two sides agreed to engage more closely was combatting the global economic crisis.
After his meeting with Clinton, Yang said he would travel to the United States to help coordinate the two nations' positions for the G20 summit. Clinton said the pair would meet the week of March 9.
Reforming global financial regulation and international economic institutions will be among the top agenda items at the summit.
Both sides said Obama and Chinese President Hu Jintao would meet on the sidelines of the G-20 meeting, which would be the first meeting between the pair since the US president took office last month.
One of China's chief concerns in dealing with the United States is that the world's biggest economy will lapse into trade protectionism, as evidenced by a "Buy American" clause in the huge US stimulus package approved last week.
But Yang said after his meeting that he and Clinton had agreed to "reject trade and investment protectionism".
For the US side, Clinton indicated Yang had given her an assurance that China would continue to buy US Treasury bonds, which is seen as vital for the United States to help pay for its 787-billion-dollar stimulus package.
"I greatly appreciate China's continued confidence in US Treasuries," Clinton told a joint press conference with Yang.
Yang was more circumspect, but signalled China would not deviate drastically from its US Treasury policies.
"We will make further determinations about the ways and the means we will use our foreign exchange reserves," he said.
"(But) I want to emphasise here that facts speak louder than words."
Clinton said the two countries -- the world's biggest greenhouse gas emitters -- agreed they had a "shared interest" in producing a successful deal at the Copenhagen summit in December aimed at combatting climate change.
"The United States and China will build an important partnership to develop and deploy clean energy technologies designed to speed our transformation to low-carbon economies," Clinton said.
"Areas for useful cooperation include renewable energy, the capture and storage of Co2 from coal plants and energy efficiency in our buildings," she added.
On the big picture of closer ties, Yang said that China also wanted to move in that direction.
"We have always believed that the world's biggest developing country and biggest developed country... should and can establish a long-term relationship that enjoys sound and steady growth," Yang said.
Clinton said ahead of her meetings with China's leaders that she wanted to focus on the most pressing global problems, such as the economic crisis, global warming and security concerns in places such as Pakistan and Afghanistan.
At their press conference, the pair said they discussed human rights but repeated prior positions: For Clinton, the issue is an "essential aspect" of US foreign policy; Yang insisted in non-interference in China's internal affairs.
Clinton was due to meet President Hu and Premier Wen Jiabao on Saturday.
She was then scheduled to visit a General Electric power plant that runs on natural gas, to highlight potential cooperation on clean energy.
On Sunday she will attend a church service and meet civil society leaders before flying home.
Clinton began her Asian trip, her first overseas trip as secretary of state, in Japan on Monday, then visited Indonesia and South Korea.