The new US and Israeli leaderships were at odds over Iran and peace with the Palestinians on the eve of talks between US President Barack Obama and his Israeli counterpart Shimon Peres.
Peres, who will be the first Israeli leader to meet Obama since the US president took office, may ease some of the US-Israeli differences because his stands are closer to Obama's than those of new Israeli Prime Minister Benjamin Netanyahu.
In his speech to a powerful pro-Israel lobby here Monday, Peres nonetheless omitted to mention a two-state solution, which Obama has embraced but Netanyahu has shied away from since his election in February.
"I shall deliver to him (Obama) a strong message for a country yearning for peace," Peres told the American Israel Public Affairs Committee (AIPAC)'s annual policy conference.
"Today, there is a chance for real peace," said the veteran Israeli leader, who shared the Nobel Peace prize for his role in the Oslo peace accords with the Palestinians.
US Secretary of State Hillary Clinton last month warned Israel that it risks losing support from Arab nations against Iran if it does not make progress in peace talks with the Palestinians.
For the right-leaning Netanyahu, the priority is Iran.
"There has to be a way reconcile those two (competing priorities) if anything is going to move," warned Aaron David Miller, an analyst who has served in both Democratic and Republican administrations.
Obama has invited Netanyahu, Palestinian president Mahmud Abbas and Egyptian President Hosni Mubarak to Washington in the coming weeks and called for "good faith" gestures from all sides, including Israel.
Peres, whose position is mostly ceremonial, has coordinated with Netanyahu, who told the conference Monday via satellite hook-up from Jerusalem that he wants to resume peace talks without preconditions and without delay.
Netanyahu said the negotiations would represent the political aspect of a "fresh" triple-track approach that also involves boosting Palestinian security forces and promoting Palestinian economic growth.
Netanyahu has so far refused to publicly endorse the creation of a Palestinian state, and has insisted on focusing efforts on strengthening the West Bank economy before engaging in negotiations on a final status agreement.
The Obama administration remains, however, focused on having a Palestinian state living side by side with a secure Israel.
Miller told AFP it was a sign of Netanyahu's political "maturity" to allow Peres to meet first with Obama, adding it was difficult to imagine him doing so while he served a first term as prime minister in the 1990s.
He also acknowledged that "to some degree, Netanyahu believes that far from putting him in a box, Peres can be used to offer up a softer side" of the Jewish state.
But the Woodrow Wilson Center public policy scholar said it was too early to predict whether Netanyahu would eventually take the bold steps needed for peace.
Netanyahu might end up endorsing a two-state solution "with reservations that will make it unattainable," Miller said. "Is he ready for a conflict-ending agreement with the Palestinians that would resolve borders, security, Jerusalem and refugees?"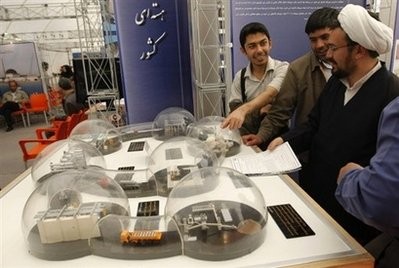 An Iranian clergyman and students look at a model during an exhibition of nuclear industry achievements at the Shahid Beheshti University north of Tehran.
In his talks with Obama on Tuesday, Miller said, "Peres is likely to be extremely candid about the severity of the threat" from Iran's suspected nuclear weapons ambitions, even if he does not object to Obama's bid to engage diplomatically with Iran.
"He will not undercut the prime minister's position on an issue that most Israelis agree is the most critical foreign policy they face for the next 18 months," Miller said.
But Peres could stress "the critical importance both of preserving the two-state solution and the prospects of a serious negotiation and agreement with the Syrians, Miller said.
Patrick Clawson, an analyst with the Washington Institute for Near East Policy, doubted Peres and Obama would delve deep into policy issues.
But he expected Peres would raise with Obama his long-held vision of regional economic integration with the Arab countries.
Looking to the longer term, Robert Satloff, an analyst who joined an AIPAC panel on Sunday, warned of "the potential for a deep disagreement between the US and Israel governments over how to really deal with a nuclear Iran."