The United States Thursday reported nearly five million people were collecting unemployment benefits, a record high amid the recession, while Britain sought to rally consensus in the battle against the global economic crisis.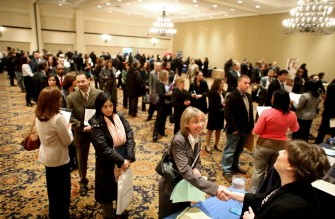 Job seekers wait in line to speak to potential employers at a job fair at the Hilton Hotel on February 19, 2009 in Melville, New York. (Photo: AFP)
Data showed continuing claims for US unemployment benefits rose by 170,000 to 4.987 million for the week ending February 7, another all-time high, the Labor Department said.
The rapid pace of layoffs in the world's largest economy, which has been in recession for more than a year, was evident in initial US jobless claims.
Although initial claims for government unemployment benefits were unchanged at 627,000 for the week ending February 14, the closely watched four-week moving average has now increased in each of the last four weeks, experts said.
Analysts said the continuing claims number spelled bad news for consumer spending, which drives nearly two-thirds of US economic activity.
"Continuing claims are at a record high. They underscore the difficulty in finding a new job at this juncture and make it apparent for many people why they should be saving more money if possible," said Patrick O'Hare of Briefing.com.
"The increased propensity to save bodes well for consumer balance sheets, but it will be a drain on GDP since increased savings means less spending by the consumer," he said.
In further grim data, the first two US regional manufacturing surveys for February point toward a sharp contraction in production, investment and employment, said Ryan Sweet of Moody's Economy.com.
"The surveys also heighten concerns the economy is headed for a deflationary trap," he said.
Deflation occurs when prices decline on a sustained basis, prompting consumers to delay purchases because they expect prices to fall further.
The reports on growing strains in the economy came a day after US President Barack Obama unveiled a 275-billion-dollar housing rescue plan aimed at staving off foreclosures at the heart of the global financial crisis that has morphed into a spreading world economic crisis.
On Tuesday Obama signed into law a 787-billion-dollar stimulus package, another major round in government economic stimulus efforts across the globe that have sparked protectionism charges.
Czech Finance Minister Miroslav Kalousek on Thursday denounced protectionism as "the road to hell" and launched a broadside at the US stimulus package.
"We have to prevent populists from going on with the Buy Czech, Buy American, Buy French campaigns," added Kalousek, whose country took over the EU presidency from France at the beginning of the year.
Both France and the United States have been criticized for their costly plans to help their struggling economies, which some observers described as protectionist.
British Prime Minister Gordon Brown Thursday met in Rome with his Italian counterpart Silvio Berlusconi as their countries prepare for upcoming Group of 20 crisis meetings.
"We are going to see unprecedented global cooperation over the next few months," Brown said at a joint news conference with Berlusconi.
The G20 finance ministers and central bank governors are to meet on March 14 in Britain, this year's head of the group of developed and developing countries that includes Brazil, India, China and Russia.
The finance meeting will set the stage for a G20 leaders' summit on April 2 in London.
Brown said the summit would aim to strike "a global bargain ... where each continent will make its contribution to the recovery of the world economy.
He warned the new bargain "must include new arrangements for global financial regulation, but recognize that national supervisors are insufficient in a world where there are global capital flows."
Major credit-boosting moves by Japan, which faces its worst recession in decades, underscored the size of the challenges facing the world's leading economies.
The Japanese central bank announced plans to spend more than 10 billion dollars (7.9 billion euros) buying corporate bonds to tackle a credit crunch and painted a somber picture of the world's second-largest economy.
Bleak corporate news continued to weigh in. The world's biggest reinsurer Swiss Re reported a 2008 loss of 864 million Swiss francs (735 million dollars, 585 million euros) and French banking giant BNP Paribas booked a fourth-quarter loss of 1.366 billion euros (1.7 billion dollars).
BNP Paribas attributed its results to "deterioration in the economic climate in the United States, Spain and Ukraine" as well as to the deepening global financial crisis.
Brazilian aircraft manufacturer Embraer said it would lay off 20 percent of its 21,000 workers because of the "unprecedented crisis hitting the world economy."