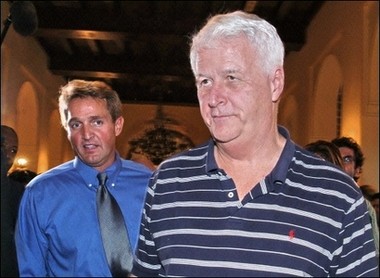 US congressmen William Delahunt (R) and Jeff Flake at a hotel in Havana (AFP Photo)
The largest US congressional delegation to visit Cuba is to wrap up the talks, following a series of meetings with senior Cuban officials aimed at easing bilateral tensions.
The US lawmakers have been tight-lipped during the visit but have scheduled a news conference for Sunday.
The unprecedented scope of the personalized push by Republican and Democratic legislators came two weeks after Cuban leader Raul Castro, filling in for his ailing brother Fidel Castro, signaled openness to dialogue with the United States.
The United States and Cuba do not have full diplomatic relations, and the US government has maintained an economic embargo on the only one-party communist state in the Americas for decades.
The bipartisan delegation that arrived here Friday has been pressing for the US government to lift the embargo and resume a dialogue with Havana, a move opposed by the Republican administration of George W. Bush.
Jeff Flake, an Arizona Republican, was co-leading the delegation with William Delahunt, a Massachusetts Democrat.
Both are members of the House of Representatives Committee on Foreign Relations and leading members of the Cuba Working Group, which aims to foster better political, economic and cultural ties.
The American delegation met Friday with Ricardo Alarcon, president of Cuba's National Assembly and the top official for US affairs.
Among Saturday's round of events was a reception with Foreign Minister Felipe Perez Roque, and meetings with central bank governor Francisco Soberon and Basic Industries Minister Yadira Garcia, an influential member of the Politburo of Cuba's Communist Party.
Authorities did not rule out a meeting with interim leader Raul Castro or Vice President Carlos Lage, organizers of the visit said privately.