WASHINGTON (AFP) – US officials have demanded that BP set up a special fund to pay oil spill claims and said President Barack Obama will give a rare White House address next week, in a sign of the seriousness of the disaster both for the country and his presidency.
As Obama prepared to tour stricken states on his fourth visit to the Gulf of Mexico since the disaster, top aides ordered BP to set up an escrow account to pay legitimate claims and let an independent panel oversee the process.
The announcement of a prime-time televised address at 8:00 pm on Tuesday (0000 GMT Wednesday) marked a significant elevation in the Obama administration's strategy on the oil crisis.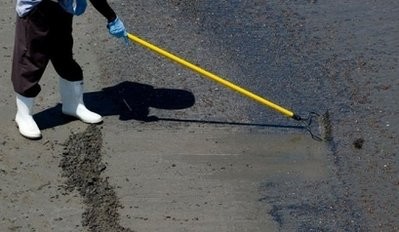 A worker collects oiled sand hit by the BP Deepwater Horizon oil spill from the Gulf of Mexico as cleanup crews work to clean the beach at Grand Isle State. AFP photo
"The president is going down to the Gulf on Monday and Tuesday to the states he hasn't visited -- Alabama, Mississippi and Florida. When he returns he will address the nation from the White House," top aide David Axelrod said.
"We're at a kind of inflection point in this saga. He wants to lay out the steps we'll take from here to get through this crisis," Axelrod, Obama's senior adviser, told NBC television's "Meet The Press" program.
It is comparatively rare for presidents to use the formal setting of a prime-time televised address from the White House. Such addresses are often reserved for moments of national crises, including wars and disasters.
Obama has yet to give an Oval Office address to the American people, though it has not been decided yet whether he will appear at the presidential desk flanked by US flags in that setting on Tuesday evening.
Obama's address and the more stringent demands of BP suggest a concerted effort to be more aggressive on the disaster as angry Americans are confronted by disturbing images of oiled birds and toxic crude spoiling fragile wetlands.
BP has failed several times to seal the flow and a first relief well that could provide a permanent solution is not predicted to be ready until the second week of August at the earliest.
A containment system is siphoning up some 15,000 barrels, 630,000 gallons, of oil a day to the surface via a mile-long pipe but estimates indicate the same amount of crude is probably still leaking into the Gulf.
The US Coast Guard ordered BP to fine-tune plans to increase the capacity of its "top hat" oil capture system amid fears of a time lapse while oil processing vessels are rotated.
Businesses in the Gulf region, ranging from fishing to tourism, are suffering. Some workers are finding temporary employment with BP to help in the clean-up effort, but longer-term prospects for many are bleak.
Obama is to insist at a high-stakes White House meeting Wednesday with BP bosses that the firm establish an independently administered fund to pay out claims related to what is now the nation's worst ever environmental disaster.
"We want to set up a structure and protect the integrity of that fund so people get what they are due," Axelrod said. "And we want to make sure that money is independently managed so that they won't be slow-walked on these claims."
Thad Allen, the former coast guard chief leading the US response to the crisis, said he expected under fire BP CEO Tony Hayward to join chairman Carl-Henric Svanberg at the meeting with Obama and administration officials.
In a 30-minute phone call Saturday, Obama reassured British Prime Minister David Cameron amid fears in London that political pressure in Washington could force BP into bankruptcy or make it the target of a takeover.
BP is expected to suspend its next dividend payment to shareholders, due on July 27, in a bid to quell growing anger in the US, where many accuse it of deliberately underestimating the flow rate to try to reduce its liability, which is worked out by the barrel.
US officials have suggested BP should also have to reimburse all companies and individuals that have lost business or income due to the six-month moratorium on deep sea drilling imposed by Obama last month.
Analysts estimate that including the cleanup, compensation claims, government penalties, and a host of civil lawsuits, BP's total bill from the catastrophe could reach 100 billion dollars.
The firm's share price has fallen more than 40 percent since the BP-leased Deepwater Horizon exploded on April 20, killing 11 workers. The rig sank two days later, fracturing the pipe now spewing the oil.