The United States said Monday that Israel's decision to build nearly 300 new homes in the occupied West Bank is "deeply troubling," and contradict efforts to revive peace talks with the Palestinians.
"We have seen... reports of this approval for apartments in the West Bank. We consider it deeply troubling," State Department spokeswoman Victoria Nuland told reporters.
Israeli Defense Minister Ehud Barak has given the green light to build 277 new homes in Ariel, a sprawling Jewish settlement deep inside the occupied West Bank, his office said on Monday.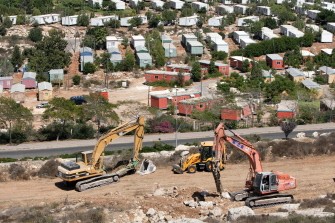 A picture taken on September 27, 2010 shows Israeli tractors working at the construction site of 50 housing units in the West Bank settlement of Ariel.
The announcement raised to more than 2,700 the number of new settler homes signed off by Israel in the past two weeks and prompted a denunciation from the Palestinian leadership.
Nuland recalled previous US criticism of settlement activity.
"As I said last week with regard to other housing activity, these kinds of actions are counterproductive to the resumption of direct negotiations," Nuland said.
"We have raised this issue with the Israel government; will continue to make our position known," she said.
"Like every American administration for decades, we do not accept the legitimacy of continued settlement activity," Nuland said.