Uzbek President Islam Karimov was expected to win easy re-election as the head of this isolated Central Asian state on Monday after a vote in which he faced only token opposition.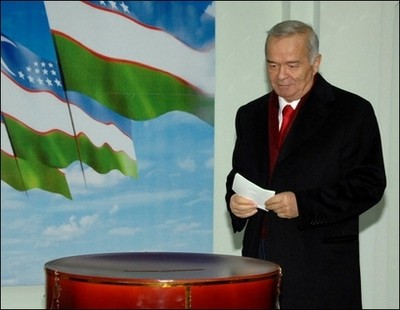 Uzbek President Islam Karimov is about to cast his ballot at a polling station in Tashkent, 23 December 2007 (Photo: AFP)
Karimov, 69, has ruled Uzbekistan since Soviet times when he was the first secretary of the Communist Party of Uzbekistan, and he has banned independent media and opposition political parties.

Many in this former Soviet republic of 28 million people can barely imagine an alternative to Karimov, who won 91 percent of the vote in his last election in 2000, when even his nominal opponent voted for him.

The Central Election Commission reported an enormous final turnout in Sunday's vote of 90.6 percent of the 16 million eligible voters. A 33-percent turnout was required to validate the election.

Preliminary results of the vote were expected to be announced at 1300 GMT.

The elections commission said no fraud claims had been reported. However, only a handful of independent election observers were present and few foreign journalists were given permission to enter the country.

Ahead of the vote, the Organization for Security and Cooperation in Europe's election observation arm said that "the political process in Uzbekistan does not seem conducive to meaningful and effective competition".

A sprawling country of deserts, mountains and oases, Uzbekistan boasts Samarkand, one of the world's oldest cities and the burial place of legendary medieval conqueror Tamerlane.

The country is one of the world's biggest producers of cotton and has extensive natural gas and mineral reserves. But it has been slow at reforming its economy and unemployment is widespread.

Karimov sees himself as a bulwark against Islamic radicalism in Central Asia. He has been denounced by human rights groups for imprisoning thousands of his own people for their political and religious views.

He is best known in the outside world for a bloody crackdown in 2005 on unrest in the eastern city of Andijan in which human rights activists say hundreds of civilians were killed by Uzbek security forces.

Uzbek authorities blamed the violence entirely on Islamist rebels and said 187 people died. Uzbekistan held a trial in which Western journalists and officials were also accused of plotting against the regime.

In a speech earlier this month, Karimov sought to mend ties with Western countries, which he has previously accused of waging an "information war" against Uzbekistan.

"Uzbekistan in its foreign policy has always been and remains an advocate of mutually beneficial cooperation and mutual respect with all neighbors... including the United States and Europe," he told foreign diplomats.