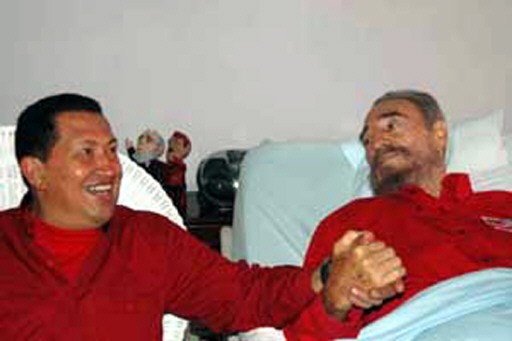 Cuban leader Fidel Castro receiving visiting Venezuelan president Hugo Chavez in his hospital bed
The official Cuban newspaper Granma on Monday published eight new pictures of Fidel Castro, showing the Cuban leader receiving visiting Venezuelan President Hugo Chavez.
   One of the photos shows Castro dressed in a red shirt receiving a birthday gift from Chavez in his hospital bed.
   Granma said it was "an unforgettable afternoon between friends."
   Castro turned 80 on Sunday.
   The publication marks the second time in as many days Cuban official media offer visual information about the ailing Cuban leader.
   On Sunday, another newspaper, Juventud Rebelde, released the first pictures of Cuban leader Fidel Castro taken after his gastrointestinal surgery, with Castro quoted as saying, "I feel very happy."
   The Cuban leader, who turned 80 Sunday, appeared alert and in good spirits and displayed no discernible weight loss.
Source: AFP