Deputy Prime Minister and Foreign Minister Pham Binh Minh made an urgent phone call on March 8 to Malaysian Foreign Minister Dato Sri Anifah Hj Aman, affirming that Vietnam is doing all it can to search for the missing airplane.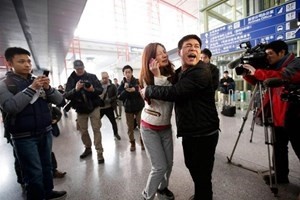 Families of passengers on the missing flight (Source: Reuters)
Deputy PM Minh said the Vietnamese government and people share the deep concern of the governments and people of Malaysia and other related countries, as well as the families of passengers on the missing flight.
He said Prime Minister Nguyen Tan Dung himself is paying special attention to the case and has instructed relevant agencies to work closely with Malaysia in updating information about the plane while deploying all forces and means at hand for the search and rescue work.
Minister Aman expressed sincere thanks from the Malaysian government and people for Vietnam for its timely assistance.