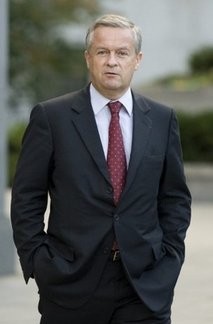 Jean-Marie Messier pictured in 2009 (AFP file)
PARIS, France (AFP) – Jean-Marie Messier, who boasted he was a "master of the universe" as he transformed Vivendi from a sleepy water utility into a global media giant, went on trial on Wednesday on charges of corporate fraud.
The former Vivendi boss arrived with his wife at the Paris courtroom where he joined Warner Music head Edgar Bronfman Jr and other former Vivendi executives who face related charges in the trial set to last four weeks.
Messier is accused of issuing false or misleading financial statements, manipulating share prices and misusing corporate assets in the 2000-2002 period when the firm went on a massive takeover spree.
At the turn of the century the now 53-year-old was a star of the French business world and was seen as a glittering example of a new spirit of enterprise taking hold in France.
But Vivendi, like many other firms, saw its share price hammered during the collapse of the tech sector and the economic fallout following the terror attacks of September 11, 2001.
Messier was forced out as CEO and chairman of Vivendi in July 2002 after he gave upbeat reports of the firm's finances when in reality Vivendi was 35 billion euros in debt after buying companies like Universal film studios.
He now faces up to five years in prison and heavy fines if found guilty of corporate fraud. He and the others on trial deny the charges against them.
In January a New York jury ruled that Vivendi recklessly misled investors about the company's finances, opening the door to a potential multibillion dollar payout to shareholders.
But Messier was cleared along with his chief financial officer Guillaume Hannezo -- who is also on trial in Paris this week -- by a jury which had deliberated over two weeks in the shareholder lawsuit.
Vivendi and Messier had been accused of making false statements about company finances between 2000 and 2002, before a collapse of the group's share price, in the lawsuit charging "recklessly misleading communication."
The class-action lawsuit brought in US federal court in 2002 had sought as much as 11.5 billion dollars to compensate shareholders.
The Paris trial is the result of a criminal inquiry begun in 2002 after individual French investors lodged a complaint.
Vivendi itself is a civil plaintiff in the case and may decide to seek compensation, its lawyers said.
The charge of misusing corporate assets partly relates to Messier's failed attempt to award himself a "golden parachute" worth 20.5 million euros when he left the firm.
Five other former Vivendi executives and a former bank executive are on trial alongside Messier.
Bronfman Jr, the heir to one of Canada's leading corporate dynasties, is on trial for insider trading following Vivendi's purchase of the entertainment division of Seagram, the Canadian group he inherited.
Messier was fined one million euros -- later reduced to 500,000 euros by an appeal court -- by the French stock market regulator in 2004 for giving inaccurate financial information about Vivendi.
Vivendi, which sold a controlling stake in Universal to General Electric's NBC, still controls video game giant Activision Blizzard, Universal Music Group, French telecom giant SFR and entertainment firm Canal Plus along with other operations around the world.